UK under pressure over 'forever chemicals' rules
Pressure is building on the British government to tighten regulations on PFAS "forever chemicals," after research showed that vast numbers of people are drinking water with levels that would be banned in the US.
On Tuesday, US President Joe Biden announced plans to lower acceptable limits in drinking water to 4 nanograms per liter (ng/l) for perfluorooctanoic acids (PFOA) and perfluorooctane sulfonic acids (PFOS), as well as proposals to regulate four similar groups of chemicals.
In England and Wales, the British Drinking Water Inspectorate's (DWI) guidelines allow levels of PFOS and PFOA in drinking water 25 times higher, at up to 100ng/l, and until 2021 the limit was 5,000ng/l for PFOA and 10,000ng/l for PFOS.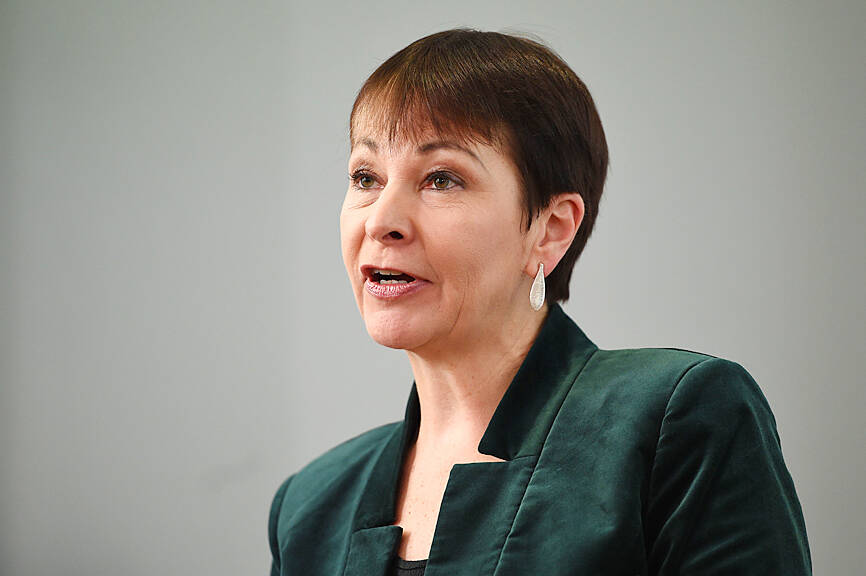 Former Green Party leader Caroline Lucas speaks at a news conference in London on Dec. 11, 2018.
Photo: AFP
"I think the Americans have this absolutely right and we are out of step," said Catherine Mary Bakewell, the environmental policy spokesperson for the Liberal Democrats in the British House of Lords. "It seems a nonsense that we are determined to poison the population. The government thinks it's at the forefront of everything, but this isn't the case and the government isn't willing to move forward on the environment."
Former Green Party leader Caroline Lucas agreed.
"A cocktail of toxic persistent chemicals is polluting our rivers and seas, poisoning our water supply and posing a severe threat to human health, marine and animal life.," she said. "Yet the UK's chemical pollution limits are shamefully lagging behind international standards."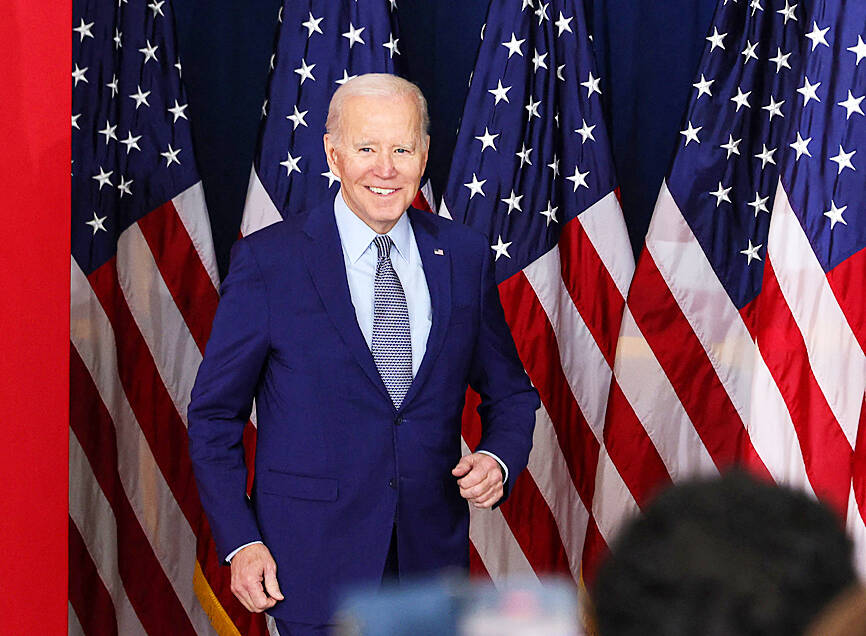 US President Joe Biden arrives to deliver remarks at an event in Las Vegas, Nevada, on Wednesday.
Photo: AFP
"The government urgently needs to get a grip on this chemical crisis and adopt far tougher regulations now," she added.
PFAS is a group of about 10,000 substances used in a huge number of consumer products and industrial processes for their nonstick properties. They are widespread in the environment and are known as "forever chemicals" because they do not break down in the environment, can build up in the body and some might be toxic.
"Communities across [the US] have suffered far too long from the ever-present threat of PFAS pollution," US Environmental Protection Agency (EPA) administrator Michael Regan said. "That's why President Biden launched a whole-of-government approach to aggressively confront these harmful chemicals, and EPA is leading the way forward."
The stricter restrictiont "has the potential to prevent tens of thousands of PFAS-related illnesses and marks a major step toward safeguarding all our communities from these dangerous contaminants," Regan added.
Data from water companies and the British Environment Agency showed that about 1,900 samples of drinking water sources, taken from across the UK, contained PFOS or PFOA above the proposed US limits.
The total number is likely to be higher because many samples are reported in bands such as "less than 10ng/l."
"Some of the collected data for detection limits of PFOS and PFOA are significantly greater than the regulatory detection limit set by the US EPA," said Cecilia MacLeod, program leader for wastewater and environmental engineering at the University of Greenwich. "Taking into consideration EPA's findings with regards to these PFAS compounds on human health, is the UK DWI approach fit for purpose?"
Tony Fletcher, an epidemiologist at the London School of Hygiene and Tropical Medicine who studies health effects of PFAS, said the US proposals "reflect the welcome trend to stricter regulation. Many regulators in US states and Europe have been setting limits stricter than the old limit of 100ng/l currently in place in Britain."
A spokesperson for the British Department of Environment, Food and Rural Affairs said: "UK drinking water standards are among the best in the world, and water companies are required to carry out regular risk assessments and sampling for PFAS to ensure the drinking water supply remains safe."
"Since the 2000s we have increased the monitoring of PFAS and taken actions to support banning or highly restricting specific PFAS both domestically and internationally," the spokesperson said. "We pay close attention to international policy developments, including the EPA's proposals around PFAS in drinking water."
Comments will be moderated. Keep comments relevant to the article. Remarks containing abusive and obscene language, personal attacks of any kind or promotion will be removed and the user banned. Final decision will be at the discretion of the Taipei Times.