Xi seeks bigger global role after Saudi-Iran deal
Chinese President Xi Jinping (習近平) yesterday called for China to play a bigger role in managing global affairs after Beijing scored a diplomatic coup by hosting talks that produced an agreement by Saudi Arabia and Iran to reopen diplomatic relations.
Xi spoke following a legislative session that installed a government of loyalists to tighten his control over the economy and society.
China should "actively participate in the reform and construction of the global governance system" and promote "global security initiatives," said Xi, the country's most powerful leader in decades, in a speech at the end of the annual meeting of China's ceremonial legislature.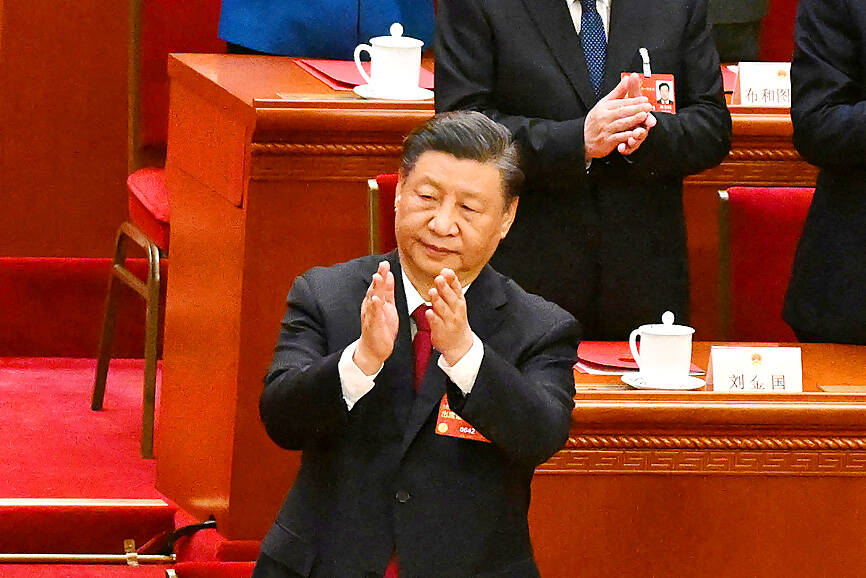 Chinese President Xi Jinping applauds after the closing session of the Chinese National People`s Congress at the Great Hall of the People in Beijing yesterday.
Photo: Reuters
That will add "positive energy to world peace and development and create a favorable international environment for our country's development," he said.
Xi gave no details of the Chinese Communist Party's (CCP) ambitions, but his government has pursued increasingly assertive policies abroad since he took power in 2012. It has pressed for changes in the IMF and other entities that Beijing says fail to reflect the needs and desires of developing countries.
Beijing has also built on China's growing heft as the second-largest economy to promote trade and construction initiatives that Washington, Tokyo, Moscow and New Delhi worry will expand its strategic influence at their expanse.
Xi's government rattled the US and Australia early last year when it signed a security agreement with the Solomon Islands that would allow Chinese navy ships and security forces to be stationed in the South Pacific island nation.
Chinese Minister of Foreign Affairs Qin Gang (秦剛) last week warned Washington of possible "conflict and confrontation" if the US does not change course in relations that have been strained by conflicts over Taiwan, human rights, Hong Kong, security and technology.
Xi yesterday called for faster technology development and more self-reliance in a speech loaded with nationalistic terms. He referred eight times to "national rejuvenation," or restoring China to its rightful historic role as an economic, cultural and political leader.
On Friday, Xi was named to another term as president, as the Chinese National People's Congress session cemented his dominance by endorsing the appointment of his loyalists as premier and other government leaders in a once-a-decade change.
Xi said that before the CCP took power in 1949, China was "reduced to semi-colonial, semi-feudal country, subject to bullying by foreign countries."
"We have finally washed away the national humiliation, and Chinese people are the master of their own destiny," Xi said. "The Chinese nation has stood up, become rich and is becoming strong."
Comments will be moderated. Keep comments relevant to the article. Remarks containing abusive and obscene language, personal attacks of any kind or promotion will be removed and the user banned. Final decision will be at the discretion of the Taipei Times.