Homeless offer respite to Johannesburg motorists
'ALWAYS IN A RUSH': A police spokesperson said the homeless people were 'doing a commendable' job controlling traffic flows during power outages
As soon as the power goes off and the traffic lights are out, homeless men sporting bright green high-visibility vests emerge apparently from nowhere and start directing the vehicles at a busy Johannesburg intersection.
South Africa is buckling under unprecedented power cuts, which are crippling everything from manufacturing to the flow of traffic.
However, for Johannesburg's army of homeless people, the crisis is an opportunity.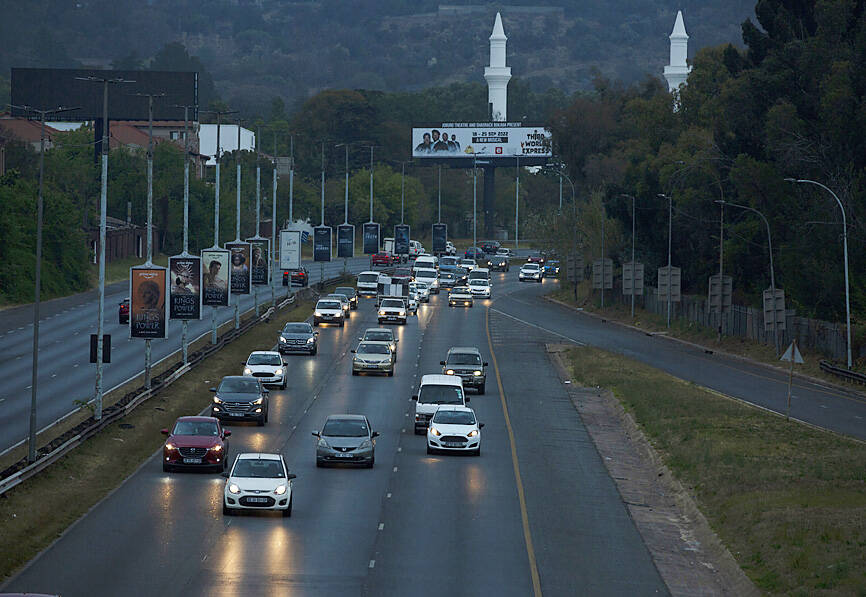 Vehicles travel along a normally lit section of a freeway during a power outage in Johannesburg on Sept. 21 last year.
Photo: AP
Ordinarily, when stop lights go out, the police come and direct the traffic at city crossroads.
However, the power cuts are so pervasive that there are not enough officers to cope — and this is where the homeless step in, pocketing tiny donations from drivers in exchange for directing the traffic.
"Without us being around here it is causing a couple of accidents," Aubrey Ndlovu, a 31-year-old migrant from Zimbabwe, told reporters at an intersection in the affluent northern suburb of Bryanston.
South Africa's highway code says that at crossroads without lights, the first vehicle to arrive has right of passage — but the pecking order gets messy when the intersection gets congested and nobody can remember who next has priority.
The informal traffic wardens thus intervene to organize the flow.
"Even the small change people give us helps us get by," Ndlovu said.
Johannesburg police spokesman Xolani Fihla said that "a large amount of unauthorized people like homeless and vagrant people" were controlling the traffic during power cuts.
They are "doing a commendable job," he said, while emphasizing that the city was not liable for any accidents that might occur under their watch.
"They do help a lot, but they are a risk at the same time," said Sphelele Mpukwana, a Johannesburg motorist, suggesting they be trained in traffic directing.
Ndlovu and his friend Ben Dube, 30, hope this would become true one day. Their current home is a spot under a local billboard.
Without training, they face a high risk of being hit by vehicles in a country where crashes kill thousands of people every year.
And not all drivers approve of what they are doing.
Some "swear at us, they are always in a rush," Dube said.
Comments will be moderated. Keep comments relevant to the article. Remarks containing abusive and obscene language, personal attacks of any kind or promotion will be removed and the user banned. Final decision will be at the discretion of the Taipei Times.