N Korea threat not deterring joint drills
'FREEDOM SHIELD': North Korea has called joint exercises between South Korea and the US a prelude to an invasion, and has pledged an 'unprecedented' counteraction
The South Korean and US militaries yesterday said they plan to proceed with large-scale annual military drills later this month despite North Korea's threats to take "unprecedently" strong action against such training.
It is likely that North Korea's response to the upcoming exercises between South Korea and the US would include provocative missile tests and belligerent rhetoric because it views them as an invasion rehearsal.
At a joint news conference, the South Korean and US militaries said they plan to conduct the Freedom Shield exercise, a computer-simulated command-post training, from March 13 to 23, to bolster their defense and response capabilities.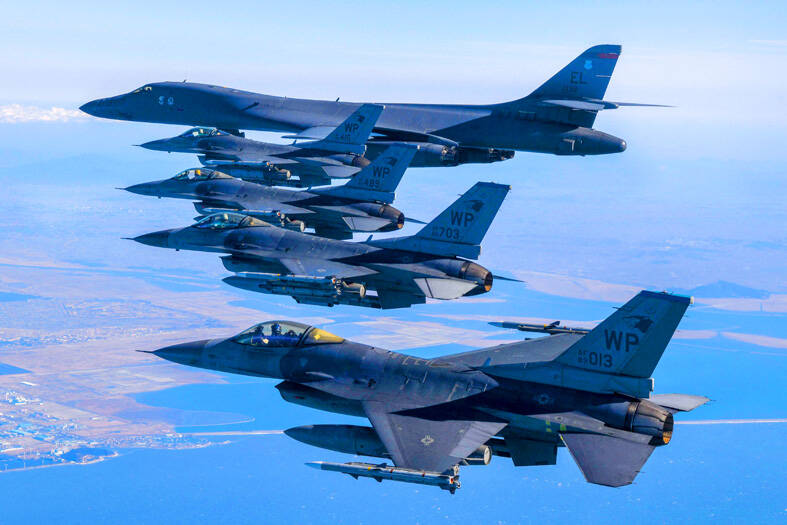 A US Air Force B-1B bomber, top, and US Air Force F-16 jets fly over the South Korean Peninsula during a joint air drill on Feb. 19.
Photo: AFP
They said the training would focus on North Korean aggression, lessons learned from recent conflicts and the changing security environment.
"The Korea-US alliance will prepare for the [Freedom Shield] training while maintaining a firm readiness against potential provocations by the North Korean military," South Korean Joint Chiefs of Staff spokesperson Lee Sung-jun said.
Lee said the allies would respond to possible North Korean provocations with "an overwhelming capability."
During the exercises, the allies are also to conduct a number of large-scale joint field training, called Warrior Shield FTX, to improve their operation execution capabilities, US military spokesman Isaac Taylor said, adding that the field trainings are to include a combined amphibious drill.
"The Warrior Shield FTX stands for the ROK-US alliance's capability and resolution to ensure a combined defense posture to defend the ROK," Taylor said, referring to South Korea's official name, the Republic of Korea.
South Korea and the US have been expanding their military exercises in the face of evolving North Korean nuclear threats.
North Korea for decades has called the joint exercises a prelude to an invasion. Emboldened by its advancing nuclear arsenal, the country test-fired more than 70 missiles last year, the most ever for a single year, and several more this year.
North Korea has also threatened to use its nuclear weapons preemptively in potential conflicts with the US and South Korea.
The US military has told the North that the use of nuclear weapons "will result in the end of that regime."
US Secretary of Defense Lloyd Austin in January said the US would also increase its deployment of advanced weapons such as jets and bombers to the Korean Peninsula.
The North Korean Ministry of Foreign Affairs last month said the US and South Korea would face "unprecedentedly persistent and strong counteractions" if they carry out their planned military drills this year, which the North regards as "preparations for an aggression war."
Later, North Korean Ministry of Foreign Affairs senior official Kwon Jong-gun said that the only way to reduce military tensions on the Korean Peninsula is for the US to withdraw its plans to deploy strategic assets in South Korea and halt its joint drills.
He said if the US continues its "hostile and provocative practices" against North Korea, that could be regarded as a declaration of war.
Comments will be moderated. Keep comments relevant to the article. Remarks containing abusive and obscene language, personal attacks of any kind or promotion will be removed and the user banned. Final decision will be at the discretion of the Taipei Times.