Philippines deports two Japanese men before Marcos visit
The Philippines yesterday deported two Japanese nationals suspected of involvement in a series of violent robberies in their home nation, a day before Philippine President Ferdinand Marcos Jr makes his first visit to Tokyo since taking office.
The Philippine Department of Justice said Toshiya Fujita and Kiyoto Imamura were sent back to Japan, where they face arrest initially for allegedly being part of a telephone scam group. Two other Japanese fugitives, Yuki Watanabe and Tomonobu Saito, are also up for deportation, the department said.
The suspects are believed to have been involved remotely in a spate of home robberies across Japan, including one in the outskirts of Tokyo late last month that left a 90-year-old woman dead, Japanese broadcaster TBS and other media reported.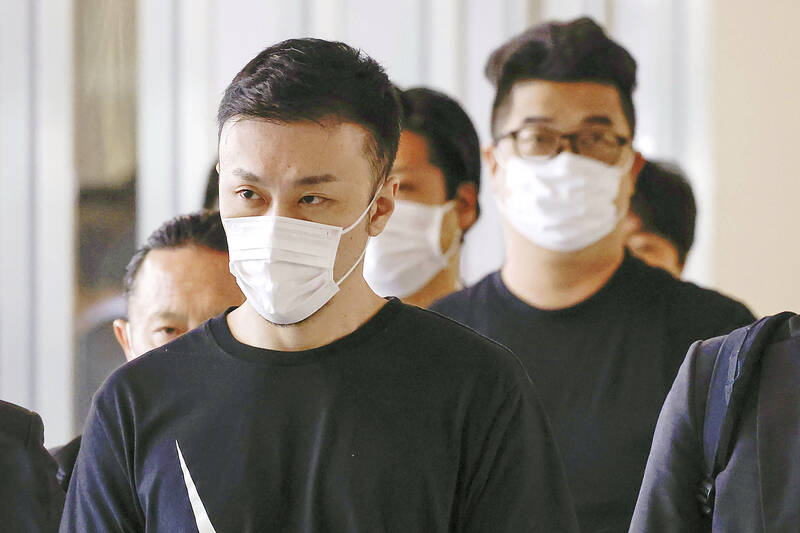 Japanese detainees Toshiya Fujita, front, and Kiyoto Imamura, rear right, arrive at Narita International Airport near Tokyo after they were deported from the Philippines yesterday.
Photo: AP
The incidents have triggered unease in Japan, which prides itself on a relatively low crime rate.
The issue risks overshadowing the summit between Marcos and Japanese Prime Minister Fumio Kishida, at which they are expected to discuss strengthening security and other ties to counter China, after the Philippines last week agreed to allow a larger US military presence.
The suspects are thought to have bribed staff at the Manila detention center, where they were being held on other charges, to allow them to use smartphones, TBS reported on Monday without saying where it got the information, adding that 36 people had been fired over the situation.
The Philippine government hopes the deportations would signal "a very stable legal regime" in the Southeast Asian nation, Philippine Secretary of Justice Jesus Crispin Remulla said.
Japanese National Public Safety Commission Chairman Koichi Tani told reporters he was grateful to the Philippine authorities, Kyodo News reported.
He added that Japanese police had been seeking the return of the four men since 2019.
Comments will be moderated. Keep comments relevant to the article. Remarks containing abusive and obscene language, personal attacks of any kind or promotion will be removed and the user banned. Final decision will be at the discretion of the Taipei Times.