Australian, New Zealand leaders discuss China ties
COSTLY DISAGREEMENTS: Trade barriers on Australian products including coal, beef, seafood, barley and wood cost the nation's exporters A$20 billion a year
The Australian and New Zealand prime ministers met yesterday to talk about China's importance to their national economies, resolving to voice their disagreements with their most important trading partner that is becoming more assertive in their region.
New Zealand Prime Minister Chris Hipkins made Australia the destination of his first overseas trip as his government's leader since his predecessor Jacinda Ardern announced her surprise resignation last month.
The visit to Australia's Parliament House comes two weeks after Hipkins assumed office on Jan. 25. He used a joint news conference with Australian Prime Minister Anthony Albanese to give an assurance that he was keeping New Zealand's foreign policy direction.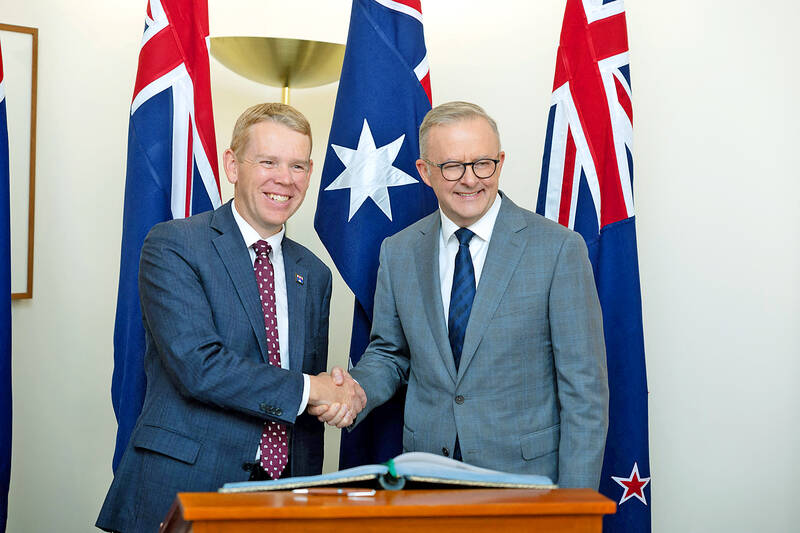 New Zealand Prime Minister Chris Hipkins, left, and Australian Prime Minister Anthony Albanese shake hands before a joint news conference at Parliament House in Canberra yesterday.
Photo: AFP
"Our foreign policy position hasn't changed just because there's a change of prime minister," Hipkins said. "The government foreign policy is the same as it was under prime minister Ardern."
A reporter put to Hipkins that Ardern had been reluctant to stand up against "bad behavior by China" and asked if he was concerned about Chinese coercion in the South Pacific.
"China is an incredibly important partner for New Zealand, a very important trading partner, and a partner in other areas as well," Hipkins said. "That doesn't mean there aren't going to be areas where we disagree from time to time, and we'll continue to voice our disagreements with China when that happens and we'll always continue to strive to strengthen that ongoing relationship."
Albanese said Australia's national interests include restoring good trade and economic relations with China.
"Our position on China is clear, that we'll cooperate where we can, we'll disagree where we must and we'll engage in our national interests," Albanese said.
Albanese's administration is rebuilding Australia's trading relationship with China after bilateral ties plumbed new depths under the previous conservative government's nine years in power.
Chinese and Australian trade ministers on Monday had their first meeting in more than three years in a major step toward normalizing relations.
Official and unofficial trade barriers on Australian products including coal, beef, seafood, barley and wood cost the nation's exporters A$20 billion (US$13.9 billion) a year.
The barriers are largely seen as Beijing punishing the previous government for disagreements including Australian demands for an independent inquiry into the origins of and responses to the COVID-19 pandemic.
Some say New Zealand has avoided such trade retaliation by avoiding criticizing China.
New Zealand found itself on the defensive with its Five Eyes security allies — the US, Canada, the UK and Australia — in 2021 by resisting speaking out in unison with them against China on certain human rights issues.
Asked whether New Zealand was interested in being part of the AUKUS security partnership, currently between Australia, the US and the UK, Hipkins said his government's position had not changed.
"Australia, the US, the UK are incredibly important security partners for New Zealand, but our nuclear-free policy hasn't changed," he said.
Additional reporting by Bloomberg
Comments will be moderated. Keep comments relevant to the article. Remarks containing abusive and obscene language, personal attacks of any kind or promotion will be removed and the user banned. Final decision will be at the discretion of the Taipei Times.