Australia, China trade ministers talk
'PRODUCTIVE': While the virtual meeting did not produce a breakthrough, it was an important step toward stabilizing bilateral ties, Australia's Don Farrell said
Australian Minister for Trade and Tourism Don Farrell is to travel to Beijing "in the near future" after attending the first meeting between an Australian trade minister and a Chinese commerce minister in three years.
Farrell, who was in Canberra for the resumption of parliament, met virtually with Chinese Minister of Commerce Wang Wentao (王文濤) for about 90 minutes yesterday.
While the meeting did not produce a breakthrough, Farrell said the talks were "another important step in the stabilization of Australia's relations with China" and he identified climate change as an area for closer cooperation.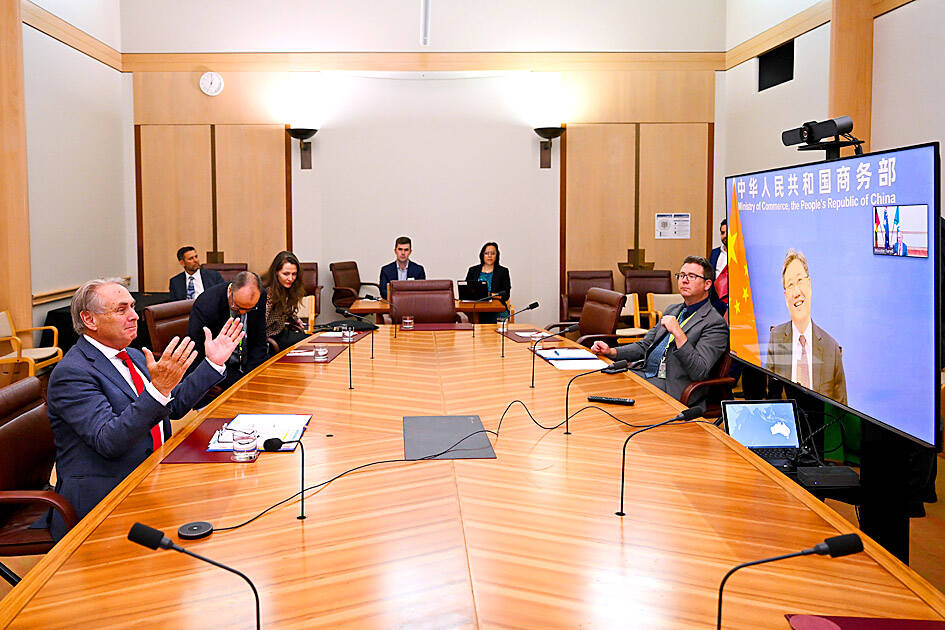 Australian Minister for Trade and Tourism Don Farrell, left, speaks to Chinese Minister of Commerce Wang Wentao during a teleconference at Parliament House in Canberra yesterday.
Photo: EPA-EFE
"I accepted an invitation from Minister Wang to travel to Beijing in the near future to continue our productive dialogue," Farrell said in a statement after the meeting.
It would be the first visit to China by an Australian trade minister since then-Australian minister for trade and tourism Simon Birmingham's trip to Shanghai in November 2019.
Farrell's visit follows the trip by Australian Minister of Foreign Affairs Penny Wong (黃英賢) in December.
The Australians used yesterday's meeting to push for the resumption of unimpeded trade, including the removal of tariffs and bans on key export sectors.
"Our discussion covered a range of trade and investment issues, including the need for resumption of unimpeded trade for Australian exporters so that Chinese consumers can continue to benefit from high-quality Australian products," Farrell said.
"Minister Wang and I agreed to enhance dialogue at all levels, including between officials, as a pathway towards the timely and full resumption of trade," he said.
At the height of diplomatic tensions between China and Australia in 2020, Beijing blocked telephone calls and meetings between Australian government ministers and their direct counterparts as a result of then-Australian prime minister Scott Morrison government's early push for a COVID-19 origins inquiry.
The Morrison government accused Beijing of engaging in "economic coercion" by rolling out tariffs or unofficial bans on a range of Australian exports, including wine, barley, red meat, lobsters and coal.
Chinese officials has said the Australian government must first take steps "to arrest the decline of the bilateral relationship" and create a better mood for talks.
However, Farrell received a congratulatory letter from Wang shortly after being appointed as trade minister last year and responded to that correspondence.
Farrell has continued to push Australia's largest trading partner to remove the trade "blockages," saying that it would be in both countries' interests to do so.
Yesterday, Farrell said he and Wang had "agreed to explore further opportunities for cooperation on a wider range of issues, including climate change and support for business delegations to further strengthen links between our countries."
Farrell also said China's international border was now open and said Australia "looks forward to welcoming Chinese tourists and students back to our shores, as we did with over 1.4 million Chinese visitors in 2019."
China has previously accused Australia of taking a hostile approach to Chinese investment in the country, including through the ban on Chinese telecom Huawei in the 5G network.
The government of Australian Prime Minister Anthony Albanese maintains that it has not given ground on Australia's national interests or policy positions, but it has pursued a deliberate effort to engage in dialogue with China to try to get the relationship on a better footing.
The government acknowledges that stark differences would endure between the two countries, but believes these differences should be managed "wisely."
Chinese Ambassador to Australia Xiao Qian (肖千), last month revealed that Chinese and Australian negotiators at the WTO in Geneva, Switzerland, were engaged in talks in an effort to resolve their trade disputes.
After reports China was considering lifting its restrictions on coal imports from Australia from April, Xiao also expressed hope for an overall improvement in the trading relationship this year.
Both sides laid the groundwork for yesterday's meeting by holding talks between Australian Assistant Minister for Trade Tim Ayres and Chinese Vice Minister of Commerce Wang Shouwen (王受文) in Davos, Switzerland, last month.
Australia is seeking rulings at the WTO against China's tariffs on Australian wine and barley and, to date, it has signaled that it is not ready to suspend or withdraw those applications.
Earlier yesterday, Wong called on the US and China to remain in dialogue despite the flareup in tensions after the US shot down what it labeled a Chinese spy balloon that flew over US territory.
Comments will be moderated. Keep comments relevant to the article. Remarks containing abusive and obscene language, personal attacks of any kind or promotion will be removed and the user banned. Final decision will be at the discretion of the Taipei Times.