Former world leaders to urge tougher China stance
TOKYO SUMMIT PLANNED: The event of the Inter-Parliamentary Alliance on China is to feature the UK's Liz Truss, who is expected to talk about Beijing threatening Taiwan
Former British prime minister Liz Truss is to join the former leaders of Australia and Belgium at a conference in Tokyo later this month to call for a tougher international approach to China.
The Inter-Parliamentary Alliance on China, an international group of lawmakers concerned about how democratic countries approach Beijing, yesterday said that Truss would speak alongside former Australian prime minister Scott Morrison at the Feb. 17 event in the Japanese Diet.
Former Belgian prime minister Guy Verhofstadt, who is a member of the European Parliament, would attend as well, it said.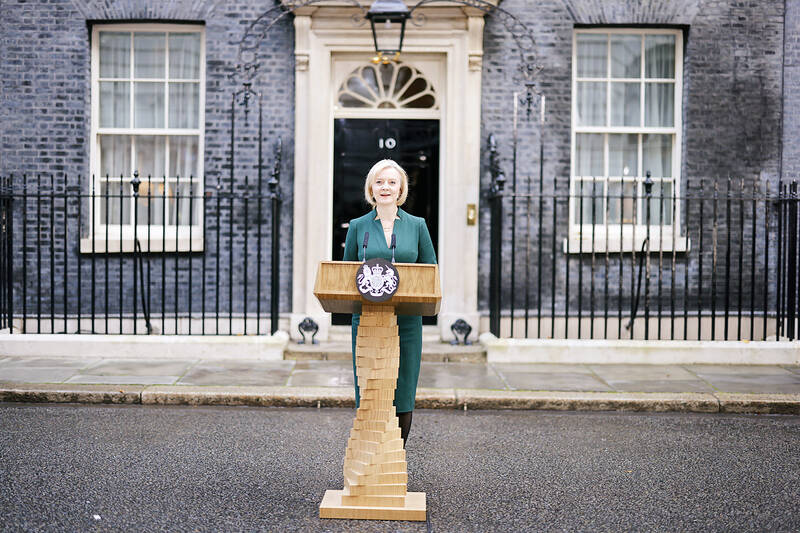 Then-British prime minister Liz Truss makes a farewell speech outside 10 Downing Street in London on Oct. 25 last year.
Photo: EPA-EFE
The organizers hope the event will help spur more coordinated diplomacy on threats raised by China ahead of the next G7 summit, scheduled in May in Hiroshima, Japan.
Truss is expected to address growing concerns over Beijing's threats to Taiwan.
Morrison is expected to call for more targeted sanctions against Chinese officials for serious human rights abuses, while Verhofstadt would speak about the EU's role in maintaining international rules under pressure from Beijing.
"The scale of the challenge posed by the People's Republic of China is such that we all need to rise above our differences and come together to defend our fundamental values and interests," Verhofstadt said in a statement.
The three former leaders are to address about 40 Japanese lawmakers, as well as legislators from Taiwan, Canada, the EU and Japan. Senior Japanese ministers are also expected to attend.
Truss has kept out of the public eye since she in October last year quit as prime minister after just 45 days in office, following an ill-conceived economic plan she unveiled that triggered a political and financial crisis.
Previously serving as British secretary of state for foreign, commonwealth and development affairs, she was outspoken in criticizing China, advocating stronger ties between democracies so they can counter China and Russia more effectively.
She at the time suggested that the UK work with its allies to ensure Taiwan could defend itself against Chinese military aggression.
Her successor, British Prime Minister Rishi Sunak, has rejected "grand rhetoric" against China and wants more "pragmatic" ties with Beijing. While he has called China's growing authoritarianism a "systemic challenge," he stopped short of describing China as a threat to British security, and said the UK and its allies needed to engage Beijing in diplomacy.
Western countries are rethinking their relationship with Beijing after Russia's invasion of Ukraine, but the US, Britain and the EU's 27 member states have disagreed with each other over how to approach an increasingly assertive China.
In November last year, German Chancellor Olaf Scholz was criticized by his European partners and members of his own coalition government when he led a delegation of senior business leaders to visit Beijing.
Critics said the bilateral visit undermined unity among EU leaders, who discussed reducing their heavy economic dependence on China during a Brussels summit in October.
While Scholz said there should be recognition that China was increasingly a competitor and systemic rival, he also warned against decoupling ties.
Comments will be moderated. Keep comments relevant to the article. Remarks containing abusive and obscene language, personal attacks of any kind or promotion will be removed and the user banned. Final decision will be at the discretion of the Taipei Times.