France seeks to match Hollywood with new 'Asterix'
Asterix was to return to the big screen yesterday as France tries to match Hollywood by weaponizing nostalgia in the battle for box-office success.
Critics have bemoaned the lack of originality in Hollywood in recent years, as risk-averse studios fall back on their catalogue of familiar superhero and sci-fi franchises, but there is no doubting that it works: The top 10 of almost every country's box office last year comprised nothing but Hollywood sequels, reboots and video game adaptations. That is particularly frustrating for France, where ministers wonder whether they are getting a return on vast state subsidies lavished on the film industry.
Roselyne Bachelot, who was Freanch minister of culture from 2020 to last year, was scathing about her country's filmmakers in a recent book.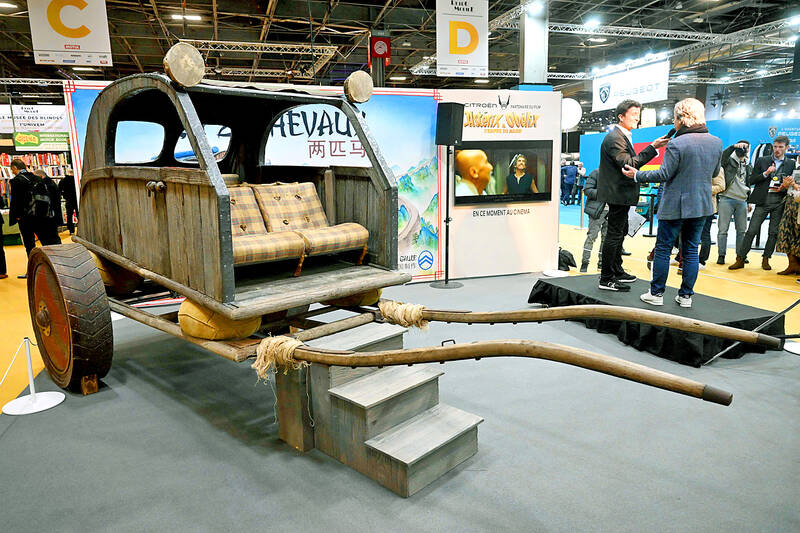 A Citroen 2CV concept interpretation created for Asterix and Obelix: The Middle Kingdom is displayed at the Classic Cars exhibition at the Paris Expo Porte de Versailles on Tuesday.
Photo: AFP
"Direct subsidies, advances on receipts, tax exemptions ... have created a protected industry which not only doesn't care much about audiences' tastes, but even expresses contempt for 'mainstream' and profitable films," Bachelot wrote.
Paris-based Pathe wants to be an exception, not least because it also runs a large chain of cinemas. Borrowing from the Hollywood playbook, it has thrown large budgets at Asterix and Obelix: The Middle Kingdom, and The Three Musketeers, which follows in its wake.
A reworking of The Count of Monte Cristo and a Charles de Gaulle biopic are also in the pipeline.
Pathe president Ardavan Safaee last year told reporters that the French system of producing hundreds of small, arty films "isn't viable in the long-term," and that France needs "more spectacular" fare to compete with Hollywood blockbusters and streaming platforms.
The strategy is likely to work at home. The four previous live-action Asterix movies between 1999 and 2012 sold about 35 million tickets in France and almost the same again across the rest of Europe.
The latest takes no chances, with popular stars including Marion Cotillard and Vincent Cassel as Cleopatra and Julius Caesar alongside cameos from rappers, YouTubers and even soccer player Zlatan Ibrahimovic designed to tempt younger viewers back to cinemas.
"Big films like this represent the joy, the celebration of making cinema in a very free and very broad way," said Gilles Lellouche, who inherits the role of Obelix from previous star Gerard Depardieu.
Outside Europe, the prospects are less clear. The makers had hoped for success in China, where the film is set.
Director Guillaume Canet, who also stars as Asterix, traveled with French President Emmanuel Macron to Beijing in 2019 to win the right to film on the Great Wall, but the COVID-19 pandemic ultimately scuppered the plan, and the film has yet to find a Chinese distributor.
Britain and the US are also tricky markets, as audiences are unaccustomed to dubbed or subtitled family fare.
It has been more than a decade since French films The Artist and The Intouchables broke records abroad, but despite occasional blockbusters such as Lucy and Valerian and the City of a Thousand Planets from Luc Besson, overseas ticket sales have been on a downward trend.
That could change.
It is no surprise that Asterix is being released on Netflix in the US — the streamer has done a lot to overcome traditional American aversion to subtitles with hit foreign shows, including France's Lupin and Call My Agent.
"The time is right for updates of The Three Musketeers and Asterix to find success in America, where fans are hungry for movies and shows with diverse and exciting points of view," said Paul Dergarabedian of US media analysts Comscore.
Comments will be moderated. Keep comments relevant to the article. Remarks containing abusive and obscene language, personal attacks of any kind or promotion will be removed and the user banned. Final decision will be at the discretion of the Taipei Times.