FEATURE: Mumbai atelier is secret workshop for top fashion
Sitting in a lotus position, four men weave glittering beads through gold thread on an organza sheet, carefully constructing a wedding dress that would soon wow crowds at Paris Fashion Week.
For once, the French couturier behind the design, Julien Fournie, is determined to put these craftsmen in the spotlight. His new collection, which showed in Paris on Tuesday, was entirely made with fabrics from Mumbai.
He said that a sort of "design imperialism" means that French fashion houses often play down that their fabrics are made outside France.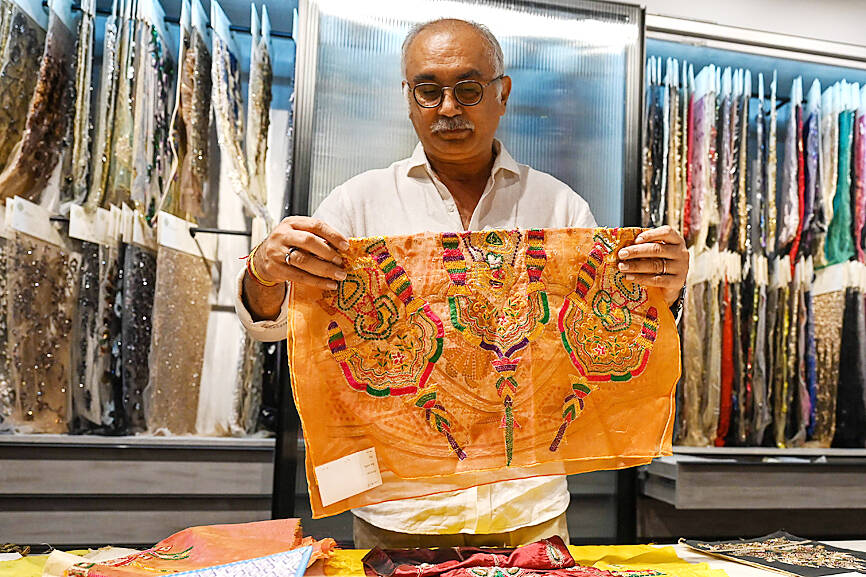 Creations By Shanagar director Chetan Desai holds up an embroidered fabric at his workshop in Mumbai, India, on Jan. 7.
Photo: AFP
"The houses which don't admit it are perhaps afraid of losing their clientele," Fournie said, adding that it was absurd.
"India is No. 1 in the world in embroidery. It's ancestral. They've been dressing maharajas in gold-embroidered outfits since the 16th century," he said.
Fournie works with a company called Creations By Shanagar (meaning "to adorn" in Sanskrit), housed in a nondescript beige building near Mumbai's international airport. Dozens of men in gray polo shirts sit cross-legged on cushions, heads bent over large sheaths of fabric. There is silence, but for the clicking of needles and beads, the whirl of ceiling fans and the occasional plane overhead.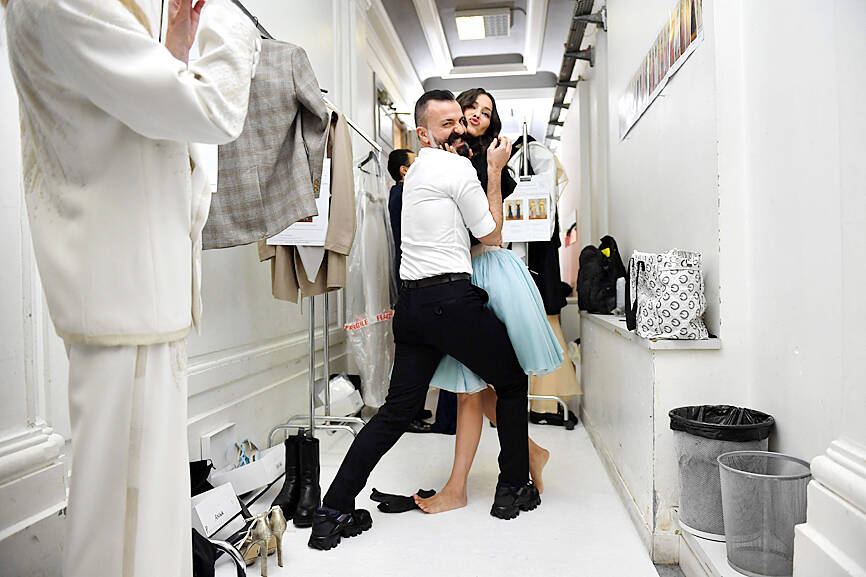 French fashion designer Julien Fournie poses with a model backstage before the presentation of his new collection during Paris Fashion Week in Paris on Tuesday.
Photo: AFP
For decades, they have played an essential, but unsung role in the fashion industries of Europe, Japan and the US.
"I like working with Julien because he is another master craftsperson who knows his subject very well," said director Chetan Desai, 55. "He has a lot of fantasy. He comes up with his own concepts and I have to translate those ideas into embroidery."
"It has been a very challenging experience and at the same time, it has been very fruitful," he added.
Back in France, Fournie sent the compliments back.
"What they know how to do better than anyone is to embroider with degraded gold thread, passing it through transparent beads to create color gradients. It's unprecedented," he said.
It gives silk an aged, elegant look for wedding dresses that "shine, but not too much," he said.
"Haute couture customers don't want to look like a Christmas tree," he added. "I've worked with great French embroiderers and each time it's complicated. Everyone wants to put in their own ideas and you never get exactly what you want."
Desai's father set up Creations By Shanagar in the 1960s as a workshop for hand-loomed and embroidered saris.
In the 1990s, Desai looked further afield to France, partnering with Franco-Tunisian designer Azzedine Alaia on dresses that ultimately graced the likes of Naomi Campbell.
He does not divulge the current clients on his books, but his past roster gives a sense of the high demand. They include Jean Paul Gaultier, Yohji Yamamoto and Donna Karan.
Even Hollywood came knocking, with Shanagar helping design Nicole Kidman's costumes for the 2001 hit Moulin Rouge.
The atelier attracts workers from across India, such as Biswajit Patra, 31, who has been working here since he was 16.
"I learned the trade in my village near Kolkata because my father was doing the same job and my brother and sister are also doing this job," he said.
Among their unique ideas is a way of rolling up pieces of tulle to make embroidered flowers.
"They have a range of techniques that we don't have here," said Jean-Paul Cauvin, director of Fournie's house in France.
One of the most delicate jobs is preparing the fabric once it arrives from India and heads for the workshop where it would be assembled into the dresses. It is Fournie who irons out the fabric.
"Sixty percent of haute couture is ironing," he said with a smile.
Comments will be moderated. Keep comments relevant to the article. Remarks containing abusive and obscene language, personal attacks of any kind or promotion will be removed and the user banned. Final decision will be at the discretion of the Taipei Times.