Rwanda fires on military aircraft from DR Congo
Rwanda has fired on a military aircraft from the Democratic Republic of the Congo (DR Congo) that it said entered its airspace in a new escalation of tensions between the neighbors that has set off alarm across central Africa.
A Rwandan government statement said "defensive measures" were taken against a Sukhoi-25 from the DR Congo on Tuesday evening, and it urged Kinshasa to "stop this aggression."
Rwanda's state broadcaster shared unverified video of what appeared to be a projectile fired at an aircraft.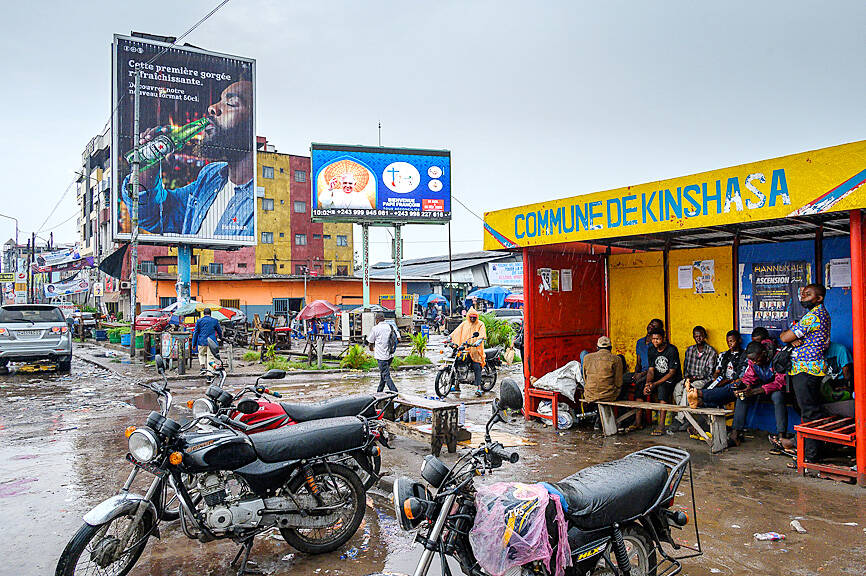 People sit at a bus stop near a billboard with an image of Pope Francis in Kinshasa on Sunday.
Photo: AFP
The Congolese government in a statement said that the Rwandan attack on its fighter plane occurred in Congolese airspace near Goma International Airport and that the plane had not entered Rwandan airspace.
It said that the plane landed without major damage.
The DR Congo considers this "a deliberate act of aggression that equals an act of war" with the goal of sabotaging regional peace efforts, it said.
The incident occurred a week before Pope Francis arrives in the DR Congo's capital, Kinshasa, for a three-day visit to highlight the toll that decades of conflict have taken on the country, particularly in eastern DR Congo, a volatile region rich in minerals critical to much of the world's technology.
The DR Congo for months has accused Rwanda of supporting a rebel group called M23, one of dozens that is fighting in the east.
To Rwanda's displeasure, powerful voices in the West have openly agreed.
Experts at the UN last month said they have "substantial evidence" of Rwandan government forces crossing into the DR Congo to reinforce M23 rebels or to conduct operations against another rebel group that includes fighters accused of taking part in the 1994 Rwandan genocide.
The US, France and Germany have urged Rwanda to stop supporting the rebels.
The Rwandan government has called accusations that it is supporting M23 "wrong" and part of a "tired old blame game" undermining efforts by regional leaders to find a lasting peace, "to which Rwanda is fully committed."
Rwanda also accuses the DR Congo of supporting another rebel group that reportedly includes ethnic Hutus who participated in the genocide that killed more than 800,000 ethnic Tutsis and moderate Hutus who tried to protect them.
The UN experts said they found evidence of support by some Congolese forces to armed groups.
The public pressure on Rwanda is notable. Human rights watchdogs and others have long accused Rwanda of using the international community's guilt over its delayed response to the genocide to dampen criticism of its actions including the stifling of opposition at home and abroad.
At a summit in Angola on Nov. 23 last year, which included the DR Congo's president and Rwanda's foreign minister, regional leaders called for a ceasefire in eastern DR Congo to be followed by a withdrawal of rebels from major towns under M23 control.
Comments will be moderated. Keep comments relevant to the article. Remarks containing abusive and obscene language, personal attacks of any kind or promotion will be removed and the user banned. Final decision will be at the discretion of the Taipei Times.