France gripped by protests over pension reform
More than 1 million people marched in France on Thursday to protest pension reforms, with some demonstrators clashing with police in Paris, as strikes disrupted public transport, schools and much of the civil service.
The French Ministry of the Interior put the total number of protesters marching against French President Emmanuel Macron's plan to extend the retirement age at 1.2 million, including 80,000 in Paris.
The leftist General Confederation of Labor (CGT) union said there had been more than 2 million people at protests across France, including 400,000 in the capital.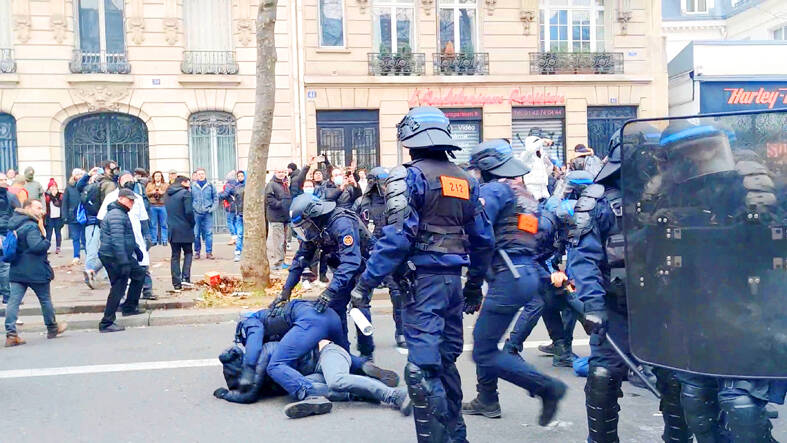 Police officers clash with protesters at a rally in Paris on Thursday against the French government's pension reform plan.
Photo: Reuters / Adrien AdcaZz
Another day of action is planned for Jan. 31.
Around the Bastille area of Paris, some demonstrators hurled bottles, bins and smoke grenades at police, who responded with tear gas and charged to disperse the protesters.
As the march wound down in the evening, groups of young protesters also clashed with security forces at the vast Nation plaza in eastern Paris, setting fire to several bicycles and smashing bus stops.
Police said 44 people were arrested on weapons or violence charges, mostly from among radical groups who wore masks, helmets and black clothes.
Seventeen people were also arrested in Lyon, where 23,000 people protested, local authorities said.
The pensions plan, presented by Macron's administration last week, would raise the retirement age for most workers from 62 — among the lowest in the EU — to 64 and would increase the years of contributions required for a full pension.
France's trade unions had called for a mass mobilization, the first time they have united since 12 years ago, when the retirement age was raised to 62 from 60.
Macron, speaking from a French-Spanish summit in Barcelona, defended what he called a "fair and responsible reform."
However, demonstrators disagreed, including Hamidou, 43, who joined the protest in central Paris.
"Macron wants us to die on the job," he said. "We get up very early. Some colleagues wake up at 3am. Working until 64 is too much."
The protests even stretched as far afield as Papeete, the capital of French Polynesia, where about 800 people gathered to oppose the proposed changes, local authorities said.
CGT general secretary Philippe Martinez told broadcaster Public Senat that the pension reform "bundles together everyone's dissatisfaction" with the government.
"We all agree that the reform is unjust," he said.
Comments will be moderated. Keep comments relevant to the article. Remarks containing abusive and obscene language, personal attacks of any kind or promotion will be removed and the user banned. Final decision will be at the discretion of the Taipei Times.