S Korea's Yoon backs a return to nuclear power
Seoul's efforts for the nation to be carbon neutral by 2050 would rely in part on returning to nuclear power, South Korean President Yoon Suk-yeol said on Monday.
Yoon's comments at a summit in the United Arab Emirates (UAE), which was attended by UAE President Sheikh Mohammed bin Zayed Al Nahyan, underlined Seoul's commitment to nuclear power as it works to finish the Arabian Peninsula's first atomic power plant.
That could see South Korea in line for lucrative maintenance contracts and other projects in the UAE.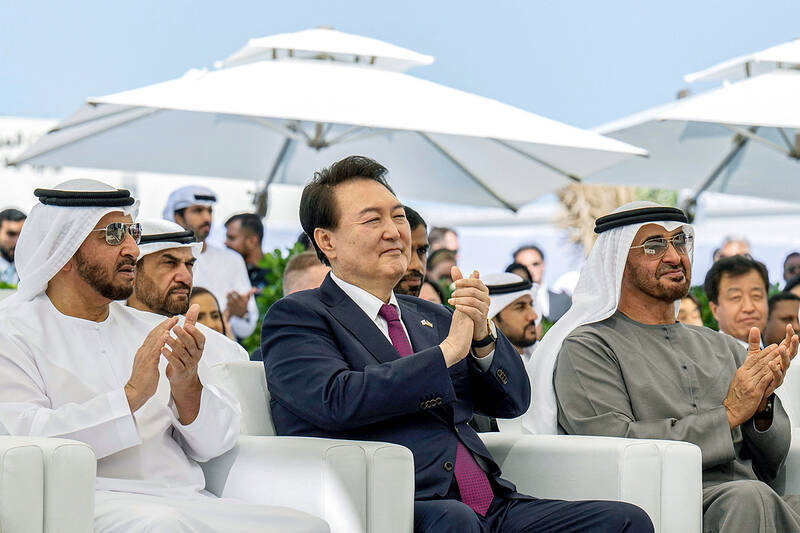 South Korean President Yoon Suk-yeol, center, and United Arab Emirates President Sheikh Mohammed bin Zayed Al Nahyan, right, attend a presentation at the Barakah nuclear energy plant in al-Dhafra region of Abu Dhabi on Monday.
Photo: AFP / UNITED ARAB EMIRATES MINISTRY OF PRESIDENTIAL AFFAIRS
South "Korea has ... declared its 2050 carbon neutrality goal," Yoon said in an address at Abu Dhabi Sustainability Week. "To achieve this goal, we are working to rapidly restore the nuclear power system, which supplies carbon-free electricity."
"If our two countries join efforts in clean energy development ... it will not only enhance our two countries' energy security, but also will contribute to global energy market stability," he said.
Former South Korean president Moon Jae-in sought to move South Korea away from nuclear power amid safety and graft scandals, and Japan's 2011 Fukushima Dai-ichi nuclear disaster.
However, focus on climate change — and a surge in prices for fossil fuels after the lockdowns of the COVID-19 pandemic and Russia's war in Ukraine — have some reconsidering nuclear power.
The UAE has also promised to be carbon neutral by 2050 — a target that remains difficult to assess and one that Abu Dhabi still has not fully explained how it would reach.
The US$20 billion Barakah nuclear power plant, Seoul's first attempt to build atomic reactors abroad, would one day account for nearly one-quarter of all of the UAE's power needs.
Yoon later told the summit that, using the Barakah plant as an example, he hoped the UAE and South Korea could expand this "new model of cooperation" to include nuclear fuel, small reactors and other joint advances to third countries.
Comments will be moderated. Keep comments relevant to the article. Remarks containing abusive and obscene language, personal attacks of any kind or promotion will be removed and the user banned. Final decision will be at the discretion of the Taipei Times.