Hong Kong DJ Ray Cordeiro, record breaker, dies at 98
Ray Cordeiro, who interviewed music acts including The Beatles during a six-decade career on Hong Kong radio that earned him the title of the world's longest-working disc jockey, has died, his former employer announced.
He was 98.
Cordeiro died on Friday, said Radio Television Hong Kong (RTHK), where he worked until 2021.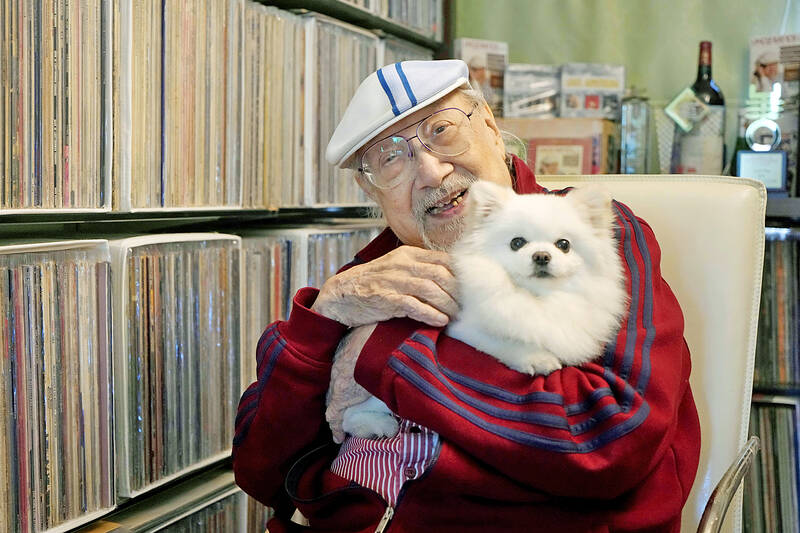 DJ Ray Cordeiro holds his dog at his home in Hong Kong on May 27, 2021.
Photo: AP
It gave no cause of death.
Cordeiro, who was born in Hong Kong in 1924 of Portuguese descent, was recognized by Guinness World Records as the world's longest-working DJ.
He joined Hong Kong's public broadcaster in 1960 after working as a prison warden and bank clerk. His "All the Way With Ray" show of easy-listening music was on RTHK Radio 3 for 51 years until his retirement.
"The audience followed me, grew up with me and they're all over the world now," Cordeiro told reporters in 2021 after his retirement. "They still listened to me on the Internet."
Cordeiro interviewed The Beatles, the world's biggest music act at the time, in 1964 following a study course in London with the BBC.
He said John Lennon recounted their early days in Hamburg, Germany, where they lived in relative poverty and played in clubs.
Cordeiro said that all four members of The Beatles autographed a magazine cover for him.
"It's probably worth a fortune," he said.
The broadcast of The Beatles interview on Hong Kong radio made Cordeiro a celebrity.
He also interviewed other stars and met Elton John and Tony Bennett.
Comments will be moderated. Keep comments relevant to the article. Remarks containing abusive and obscene language, personal attacks of any kind or promotion will be removed and the user banned. Final decision will be at the discretion of the Taipei Times.