Iran sentences three more men to death over Amini protests
Iran has sentenced three more people to death for offenses related to the civil unrest triggered by Mahsa Amini's death, the judiciary said on Monday, fueling international protests against the regime.
The latest sentences — for three men convicted of killing three members of the security forces — bring to 17 the official total of detainees condemned to death in connection with nearly four months of protests.
Four executions have been carried out, while six of those convicted have been granted retrials.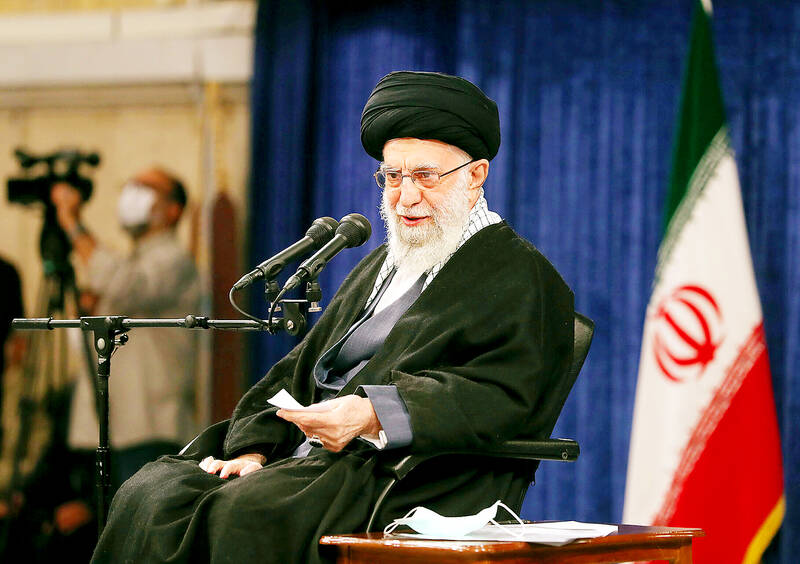 Iranian Supreme Leader Ayatollah Ali Khamenei speaks during a meeting in Tehran on Monday.
Photo: EPA-EFE / IRAN SUPREME LEADER OFFICE / HANDOUT
Oslo-based group Iran Human Rights on Monday said that at least 109 protesters in detention have been sentenced to death or face charges that can carry capital punishment.
The Islamic republic has been rocked by a wave of protests since the death in custody of Kurdish Iranian Amini, 22, on Sept. 16 last year, following her arrest for allegedly contravening Iran's strict dress code for women.
In the latest ruling, Saleh Mirhashemi, Majid Kazemi and Saeed Yaghoubi were sentenced to death for moharebeh — or waging "war against God" — under Iran's Islamic Shariah law, the judiciary's Mizan Online Web site reported. They can still appeal the verdict.
Two men were sentenced to prison terms for the incident that led to the deaths of the three members of the security forces in the central Isfahan Province on Nov. 16 last year, Mizan said.
In an updated death toll, Iran Human Rights said on Monday that 481 protesters had been killed, including 64 minors, since the unrest began.
Iranian authorities say hundreds, including members of the security forces, have been killed.
Iran has blamed the unrest on hostile foreign forces, and Iranian Supreme Leader Ayatollah Ali Khamenei on Monday said that authorities had been dealing "seriously and justly" with those implicated in the "riots."
"There is no doubt that there is an economic and livelihood problem, but can this problem be solved by burning trash cans and rioting in the streets?" his official Web site quoted him as saying. "Undoubtedly, these actions are treason, and the responsible institutions deal with treason seriously and justly."
Comments will be moderated. Keep comments relevant to the article. Remarks containing abusive and obscene language, personal attacks of any kind or promotion will be removed and the user banned. Final decision will be at the discretion of the Taipei Times.