Maduro still illegitimate, the US says
RECOGNITION OF DISSOLVED: The state department said it continues to recognize the National Assembly, the 'only democratically elected institution' in Venezuela
The US on Tuesday said that it still did not consider Nicolas Maduro to be the legitimate president of Venezuela and would maintain sanctions after the fledgling opposition dissolved its "interim government."
US President Joe Biden's administration said that Venezuelan government assets in the US, notably of the state oil company, would remain legally under the authority of the opposition-led Venezuelan National Assembly, which was elected in 2015, but has been disempowered by Maduro's government.
"Our approach to Nicolas Maduro is not changing. He is not the legitimate leader of Venezuela," US Department of State spokesman Ned Price told reporters. "We continue to recognize what is the only remaining democratically elected institution in Venezuela today, and that's the 2015 National Assembly."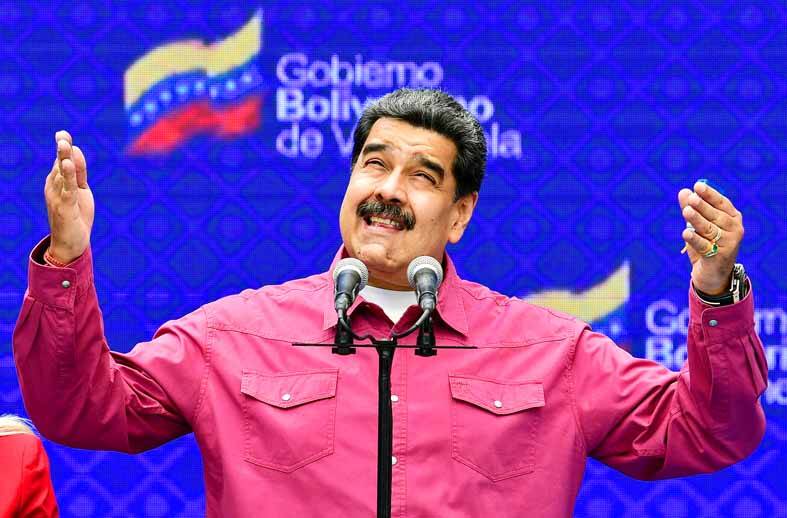 Venezuelan President Nicolas Maduro speaks at a news conference at Simon Rodriguez school in Caracas on Dec. 6, 2020.
Photo: AFP
Existing sanctions "remain in place" and the US was in touch with the National Assembly on whether a new individual, group or committee would oversee government assets, Price said.
Under then-US president Donald Trump, Washington in 2019 set a goal of toppling Maduro following elections widely seen as fraudulent and as an economic crisis wreaked havoc with shortages of basic necessities.
More than 7 million Venezuelans have fled their country, most to neighboring countries, but with a growing number making the dangerous trek to the US.
Joined by most Western and Latin American nations at the time, the US four years ago recognized the National Assembly's Juan Guaido as interim president.
The Trump administration put Guaido as a government in control of Citgo, the US refiner that is part of state-owned oil company PDVSA.
Maduro has remained in power with backing from some segments of the population, as well as the military, Russia, China and Cuba.
The National Assembly — now largely a symbolic force in Caracas — on Friday last week voted to dissolved Guaido's "interim government."
In an interview broadcast on Sunday on state television, Maduro proposed top-level talks with the Biden administration.
"Venezuela is ready, totally ready, to take steps towards a process of normalization of diplomatic, consular and political relations with the current administration of the United States and with administrations to come," Maduro said.
Despite not recognizing his legitimacy, the Biden administration sent a delegation that met Maduro in March and in November it gave the green light for US oil giant Chevron to resume operations in Venezuela following a spike in crude prices due to Russia's invasion of Ukraine.
The Chevron move came after the Maduro government and the opposition reached an agreement in talks in Mexico to let the UN administer government funds for social spending in the country.
Comments will be moderated. Keep comments relevant to the article. Remarks containing abusive and obscene language, personal attacks of any kind or promotion will be removed and the user banned. Final decision will be at the discretion of the Taipei Times.