S Korea might scrap 2018 maritime buffer zone pact
MILITARY TENSIONS: Although North Korea contravened the deal with drone incursions, the agreement still helped prevent a 'major military clash' in the region, an analyst said
South Korean President Yoon Suk-yeol yesterday said he would consider suspending a 2018 agreement that created maritime buffer zones with North Korea should Pyongyang "violate" Seoul's territory again.
The deal, struck during a period of high-profile diplomacy at a summit in Pyongyang, aimed to reduce military tensions along the heavily fortified border.
At the time, the two sides agreed to "cease various military exercises aimed at each other along the military demarcation line," but Pyongyang began repeatedly contravening the deal last year.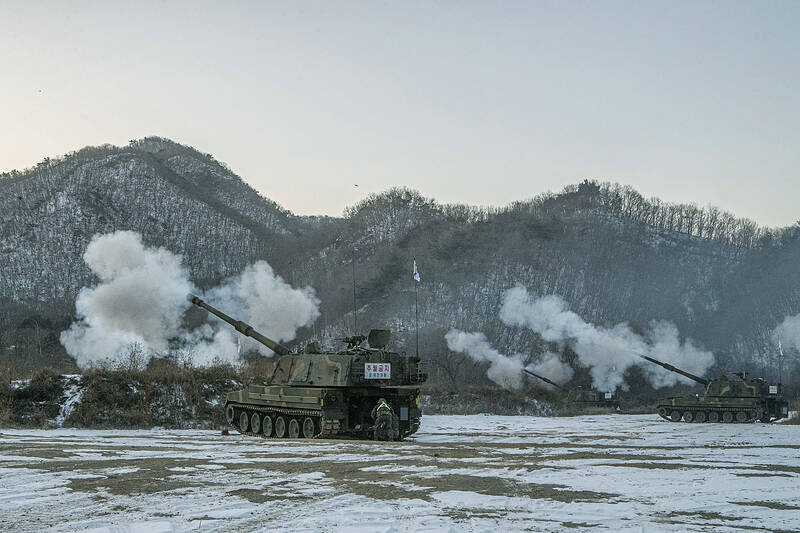 K9 self-propelled howitzers fire artillery shells during this year's first fire training exercise at a firing range in Yeoncheon, South Korea, on Monday.
Photo: EPA-EFE
North Korea fired artillery shots into the agreement's designated maritime buffer zones multiple times last year, and last week sent five drones across the border into South Korean airspace.
The incursions have prompted growing calls from ruling-party lawmakers for the hawkish Yoon administration to scrap the four-year-old deal, signed under then-South Korean president Moon Jae-in.
Yoon yesterday instructed his security aides "to consider suspending the military agreement if the North carries out another provocation violating our territory," spokeswoman Kim Eun-hye told reporters.
Yoon also called for "a large-scale production of small-size drones that are hard to be detected by the end of the year" and the creation of a multipurpose drone unit for an "overwhelming counteroffensive capability."
The North Korean drone incursion, the first such incident in five years, prompted an apology from Seoul's defense minister after the military failed to shoot down any of the uncrewed aircraft, despite scrambling jets for a five-hour operation.
Scrapping the 2018 deal would "increase the chance of heightened military tensions and an actual clash in border areas," Korea Institute for National Unification director and research fellow Hong Min said.
Despite Pyongyang contravening the deal, the agreement still helped with "preventing a major military clash," he said. "It will be a much different story if Yoon puts an official, political end to the agreement."
Comments will be moderated. Keep comments relevant to the article. Remarks containing abusive and obscene language, personal attacks of any kind or promotion will be removed and the user banned. Final decision will be at the discretion of the Taipei Times.