Poland rebuffs missile offer, urges Ukraine deployment
POLAND-GERMANY RIFT: Warsaw's response to Berlin over a NATO system that would increase the alliance's involvement in the war came as Kyiv accused Russia of war crimes
Anti-missile systems that Germany offered to send to Poland should instead go to Ukraine, the Polish government said on Thursday, a proposal that is likely a nonstarter for Berlin because it would significantly ratchet up NATO involvement in Ukraine.
Poland's surprising response to Berlin's offer was welcomed by Ukraine, which is desperate to protect its airspace as barrages of Russian missiles have knocked out power across the country.
German Minister of Defense Christine Lambrecht said that use of NATO defense systems outside its territory needs to be agreed by all member states.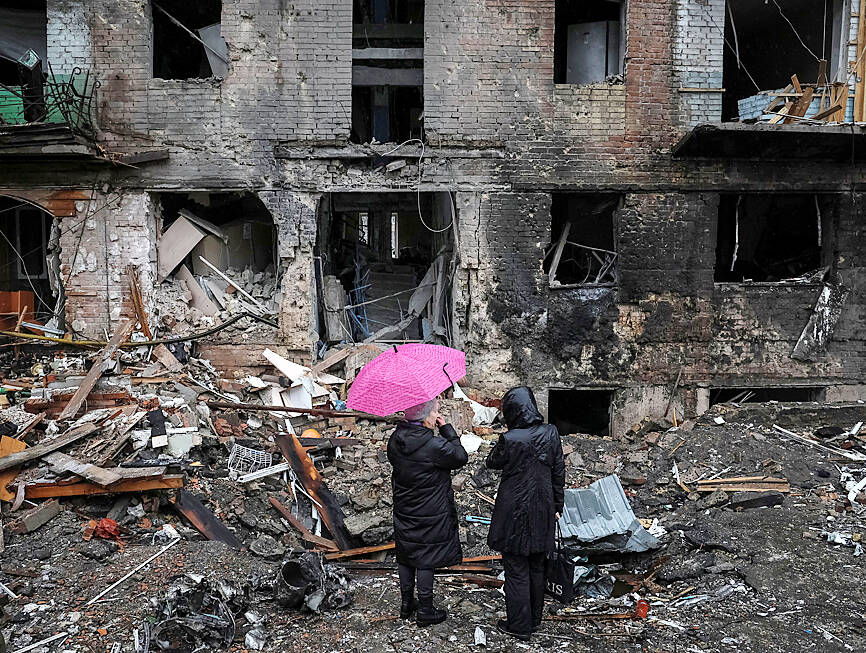 People on Thursday stand near a building that was destroyed by a Russian missile attack on Vyshhorod, Ukraine.
Photo: REUTERS
"It is important to us that Poland can rely on allies to stand by each other, even in difficult times, and especially Poland in its exposed position," Lambrecht told reporters in Berlin.
"That's why we have offered to support air policing and Patriots, but these Patriots are part of an integrated air defense of NATO, that is, they are intended for NATO territory," she said, referring to the US-made Patriot surface-to-air missile system. "If they are used outside the NATO area, then it has to be agreed with NATO and with the allies beforehand."
In Poland, critics of the ruling party accused it of sacrificing the country's security with a war next door in Ukraine for the sake of a domestic political struggle that exploits anti-German sentiment for short-term gain.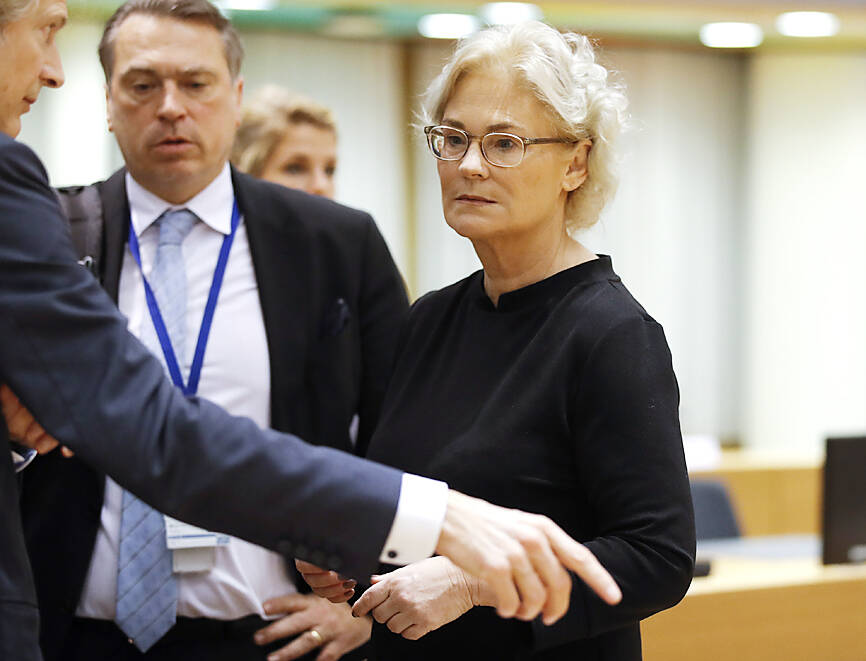 German Minister of Defense Christine Lambrecht, right, participates in a EU defense meeting in Brussels on Tuesday last week.
Photo: EPA-EFE
The Rzeczpospolita daily called the new proposal by Poland's leaders "shocking," saying that it would require sending German soldiers operating the system to Ukraine, which "would involve NATO in a direct clash with Russia, something the alliance has been trying to avoid from the beginning."
An aide to Polish President Andrzej Duda said the president has not been consulted on the decision to reject the offer. The president is the supreme commander of Poland's armed forces and has a say on matters of national security.
Duda believes that if the missiles are made available by Germany, regardless of where they are placed, they should first of all protect Poland's territory and the Poles, Chief of the Cabinet of the Polish President Pawel Szrot said.
"If his idea is different" Polish Minister of National Defense Mariusz Blaszczak would have to convince Duda of it, but there have been no talks on the subject, Szrot said.
Meanwhile, much of Ukraine remained without heat or power after the most devastating Russian airstrikes on its energy grid so far, and in Kyiv, residents were warned to brace for further attacks and stock up on water, food and warm clothing.
Moscow acknowledged attacking basic infrastructure, saying it aims to reduce Ukraine's ability to fight and push it to negotiate.
Kyiv says such attacks are a war crime.
"Together we endured nine months of full-scale war and Russia has not found a way to break us, and will not find one," Ukrainian President Volodymyr Zelenskiy said in a nightly video address on Thursday.
Zelenskiy also accused Russia of incessantly shelling Kherson, a southern Ukrainian city Russian forces abandoned earlier this month.
Seven people were killed and 21 wounded in a Russian attack on Thursday, local authorities said.
Additional reporting by Reuters
Comments will be moderated. Keep comments relevant to the article. Remarks containing abusive and obscene language, personal attacks of any kind or promotion will be removed and the user banned. Final decision will be at the discretion of the Taipei Times.