Bolsonaro contests Brazil vote result
'ALWAYS DISTRUSTED': A complaint to election authorities said a software bug was 'irreparable non-compliance due to malfunction' and called into question the results
More than three weeks after losing a re-election bid, Brazilian President Jair Bolsonaro on Tuesday blamed a software bug and demanded the electoral authority annul votes cast on most of Brazil's nation's electronic voting machines.
Such an action would leave Bolsonaro with 51 percent of the remaining valid votes — and a re-election victory, Marcelo de Bessa, the lawyer who filed the 33-page request on behalf of the president and his Liberal Party, told reporters.
The electoral authority has already declared victory for former Brazilian president Luiz Inacio Lula da Silva.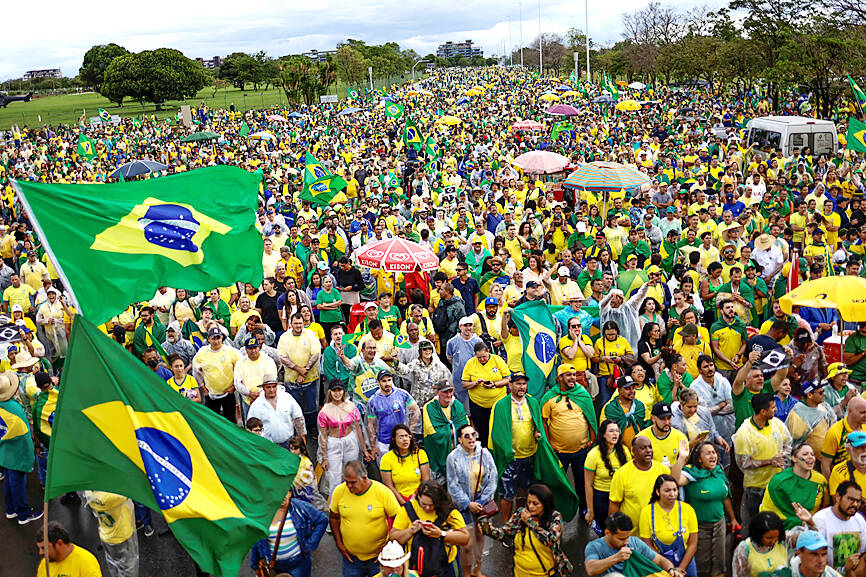 People attend a rally in support of Brazilian President Jair Bolsonaro in Brasilia on Tuesday last week.
Photo: Reuters
Bolsonaro and protesters in cities across the country have not conceded.
Liberal Party leader Valdemar Costa and an auditor hired by the party told reporters in Brasilia that their evaluation found that all machines dating from before 2020 — nearly 280,000 of them, or about 59 percent of the total used in the Oct. 30 runoff — lacked individual identification numbers in internal logs.
Neither explained how that might have affected election results.
They said they were asking the electoral authority to invalidate all votes cast on those machines.
The complaint characterized the bug as "irreparable non-compliance due to malfunction" that called into question the authenticity of the results.
Immediately afterward, the head of the electoral authority issued a ruling that implicitly raised the possibility that Bolsonaro's own party could suffer from such a challenge.
Alexandre de Moraes said that the court would not consider the complaint unless the party offers an amended report within 24 hours that would include results from the first electoral round on Oct. 2, in which the Liberal Party won more seats in both congressional houses than any other.
Creomar de Souza, a political analyst at Dharma Political Risk and Strategy, said that the wording of De Moraes' ruling indicates the electoral court is likely to reject the appeal.
The bug had not been known previously, yet experts said it does not affect results.
Each voting machine can still be easily identified through other means, such as its city and voting district, said Wilson Ruggiero, a professor of computer engineering and digital systems at the Polytechnic School of the University of Sao Paulo.
Diego Aranha, an associate professor of systems security at Aarhus University in Denmark, who has participated in official security tests of Brazil's electoral system, agreed.
The discovery regarding the machines "does not undermine the reliability or credibility in any way," Ruggiero told reporters by telephone. "The key point that guarantees correctness is the digital signature associated with each voting machine."
Bolsonaro's less than two-point loss to da Silva on Oct. 30 was the narrowest margin since Brazil's 1985 return to democracy.
Supporters of Bolsonaro have been protesting daily, with dozens gathering outside the news conference on Tuesday wearing the green and yellow of Brazil's flag, and chanting patriotic songs.
Bolsonaro spent more than a year saying that Brazil's electronic voting system is prone to fraud.
The president's son, federal lawmaker Eduardo Bolsonaro, repeated that concern at a conference in Mexico last week.
"We always distrusted these machines... We want a massive audit," he said. "There is very strong evidence to order an investigation of Brazil's election."
Comments will be moderated. Keep comments relevant to the article. Remarks containing abusive and obscene language, personal attacks of any kind or promotion will be removed and the user banned. Final decision will be at the discretion of the Taipei Times.