Turkey criticizes US over Cyprus security program
'NO JUSTIFICATION': The US adding Cyprus to the State Partnership Program has disrupted the balance between the two sides of the island, Ankara said
Turkey on Monday condemned the US' decision to add Cyprus to a security cooperation program, saying that Washington is losing its impartiality in the dispute surrounding the divided island.
The US move came two weeks after it lifted a decades-old arms embargo on the internationally recognized Greek Cypriot government in the south of the Island.
In response, Turkey first pledged to boost defenses of the Turkish Cypriots in the north of the island — a breakaway republic that is only recognized by Turkey itself.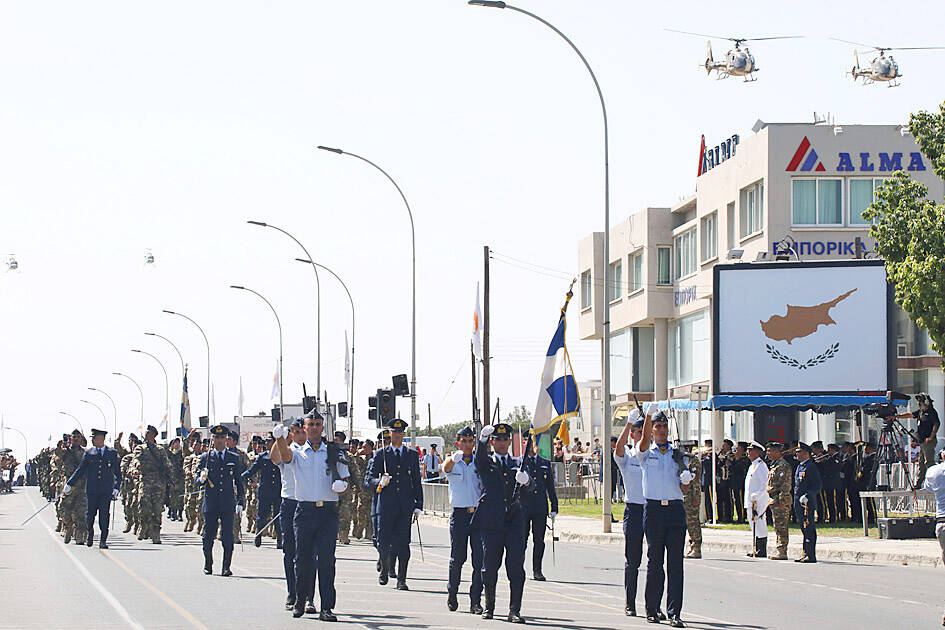 Military helicopters fly over as soldiers take part in a military parade as part of the celebrations marking the 62nd anniversary of the independence of the Republic of Cyprus in Nicosia on Saturday.
Photo: EPA-EFE
On Monday, the Turkish Ministry of Foreign Affairs said the latest US step had no justification and disrupted the balance between the two sides on the island.
"The US has evidently become partial," it said in a statement.
Tensions over Cyprus come at a time when Turkey and Greece are engaged in a war of words over what Ankara says is a growing Greek military buildup on Aegean islands, as well as Western military support to Athens.
The State Partnership Program that the US added Cyprus to is a "security cooperation tool, facilitating cooperation across all aspects of international civil-military affairs," the US National Guard's Web site says.
Cyprus will be paired with the New Jersey National Guard for the program, a US Department of Defense statement said.
The Mediterranean island — less than half the size of New Jersey — was effectively partitioned in 1963 when fighting erupted between its two main groups: Greek and Turkish Cypriots.
It was fully divided in 1974 after Turkey intervened, capturing the northern third of the island, saying it intended to protect the minority Turkish Cypriots following an Athens-backed coup by supporters of union with Greece.
US National Security Adviser Jake Sullivan on Sunday met Ibrahim Kalin, the spokesman of Turkish President Recep Tayyip Erdogan, in Istanbul and urged Turkey to seek dialogue and diplomacy to resolve any disagreements in the eastern Mediterranean, the White House said in a statement.
A spokesman for the Greek government said Greek Prime Minister Kyriakos Mitsotakis would respond positively if Erdogan sought a bilateral meeting in Prague, where leaders of the EU and other regional countries are to meet later this week.
Comments will be moderated. Keep comments relevant to the article. Remarks containing abusive and obscene language, personal attacks of any kind or promotion will be removed and the user banned. Final decision will be at the discretion of the Taipei Times.