Protests spread to 15 cities across Iran
UNREST: Images posted online showed women removing their headscarves in defiance of religious law, with some even setting them on fire or symbolically cutting their hair
Protests spread to 15 cities across Iran overnight over the death of Mahsa Amini after her arrest by the country's "morality police," state media reported yesterday, adding that four police officers were injured and one "police assistant" died from injuries on Tuesday in the southern city of Shiraz.
In the fifth night of street rallies, police used tear gas and made arrests to disperse crowds of up to 1,000 people, the official Islamic Republic News Agency (IRNA) said.
Demonstrators blockaded streets, hurled stones at security forces, set fire to police vehicles and garbage bins, and chanted anti-government slogans, it added.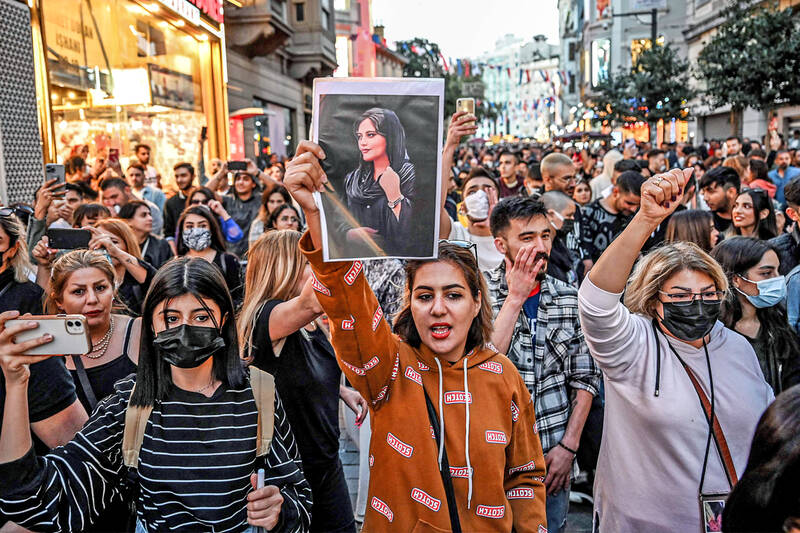 A protester in Istanbul on Tuesday holds a portrait of Mahsa Amini during a demonstration in support of Amini, an Iranian woman who died after being arrested in Tehran by the country's "morality police."
Photo: AFP
"On Tuesday evening, some people clashed with police officers and as a result one of the police assistants was killed. In this incident, four other police officers were injured in Shiraz," it said, adding that 15 protesters were arrested in the city.
Public anger has flared since authorities on Friday announced the death of 22-year-old Amini, after her arrest by the morality police responsible for enforcing a strict dress code for women.
Amini, who is from Kurdistan Province where the protests started, had fallen into a coma after being detained for wearing a hijab in an "improper" way, state media has reported.
Demonstrators said she suffered a blow to the head in custody, but this has not been confirmed by Iranian authorities, who have opened an investigation.
In the protests, many Iranian women have taken off their headscarves in defiance of the Islamic republic's strict laws and sometimes even set them on fire or symbolically cut their hair.
Rallies were held overnight in the capital Tehran and other major cities, including Mashhad in the northeast, Tabriz in the northwest, Rasht in the north, Isfahan in the center and Shiraz in the south, IRNA reported.
Kurdistan Governor Ismail Zarei Koosha on Tuesday said that three people had died during protests in the province, without specifying when, insisting they were "killed suspiciously" as part of "a plot by the enemy," Fars news agency reported.
Advocates say that dozens of people have also been wounded and accuse the security forces of using live fire that has caused the casualties.
The protests are among the most serious in Iran since the November 2019 unrest over fuel price rises, and marked this time by the presence of large numbers of women.
New York-based Human Rights Watch said witness accounts and videos circulating on social media "indicate that authorities are using tear gas to disperse protesters and have apparently used lethal force in Kurdistan Province."
The Kurdish human rights group Hengaw, which is based in Norway, said it had confirmed a total of three deaths in Kurdistan — one each in Divandareh town, Saqqez and Dehgolan.
It added that 221 people had been wounded and another 250 arrested in the province, where there had also been a general strike on Monday.
A 10-year-old girl — images of whose blood-spattered body have gone viral on social media — was wounded in the town of Bukan, but is alive, Hengaw added.
Images and video posted online showed protesters chanting "death to the dictator" and "woman, life, freedom," while demonstrators stated fires and sought to overturn police vehicles in several cities.
"It is not surprising to us that we are seeing people of all walks of life come out in Iran to object vigorously to that, and say that is not the kind of society that they want to live in," US National Security Adviser Jake Sullivan Additional reporting by Reuters
Comments will be moderated. Keep comments relevant to the article. Remarks containing abusive and obscene language, personal attacks of any kind or promotion will be removed and the user banned. Final decision will be at the discretion of the Taipei Times.