Russia, China hold security talks
'TORTURE WAS WIDESPREAD': The Russian Security Council secretary's China visit came as exhumations contined in Ukrainian areas recaptured from Russian troops
Russian Security Council Secretary Nikolai Patrushev yesterday was to hold security consultations and meetings on the first day of a two-day visit to China, the Chinese Ministry of Foreign Affairs said.
Patrushev was to attend the 17th round of China's Russia strategic security consultations and the seventh meeting of the China-Russia law enforcement security cooperation during his visit, the ministry said in a statement released on its Web site.
The meetings come after Chinese President Xi Jinping (習近平) and Russian President Vladimir Putin held face-to-face talks in Uzbekistan on Thursday, their first since the Moscow's invasion of Ukraine.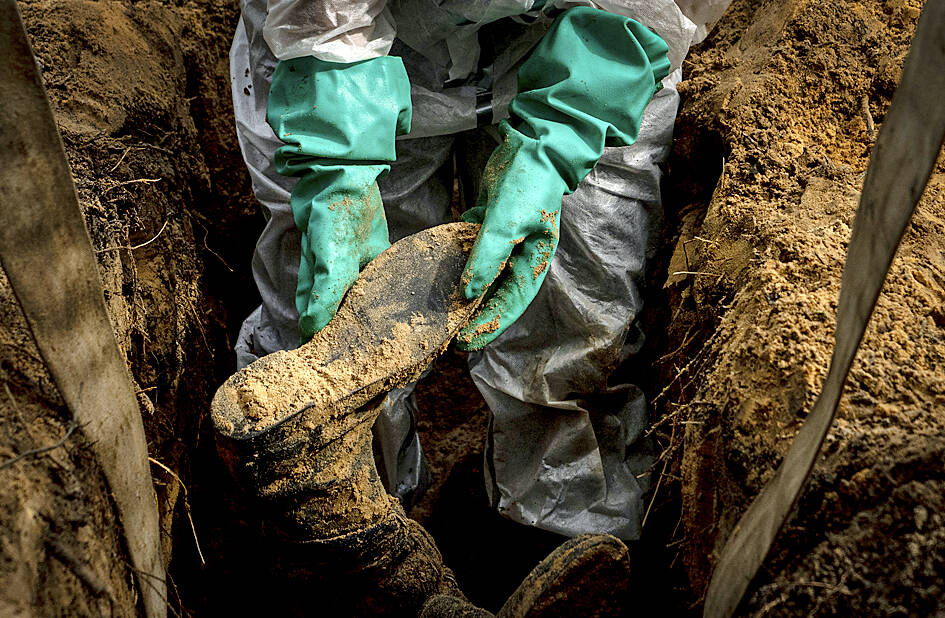 A worker holds the leg of a body exhumed near Izium, Ukraine, on Saturday.
Photo: AP
The war in Ukraine has killed tens of thousands of people and pushed the global economy into uncharted waters with soaring food and energy prices amid the biggest confrontation between Moscow and the West since the Cold War.
China has refrained from condemning Russia's operation against Ukraine or calling it an "invasion" in line with the Kremlin, which casts the war as "a special military operation."
Meanwhile, residents of the Ukrainian town of Izium searched for dead relatives in a nearby wooded grave site as emergency workers continued to exhume what they said were hundreds of bodies found after Russian forces were driven from the region.
The causes of death for those at the grave site, discovered last week, have not yet been established, although residents say some died in an airstrike.
Ukrainian authorities have said at least one of the bodies had tied hands and rope marks on the neck.
Ukrainian President Volodymyr Zelenskiy said investigators had discovered new evidence of torture used against the people buried in Izium, one of dozens of towns retaken in the northeastern Kharkiv region after a lightning advance earlier this month.
"More than 10 torture chambers have already been found in the liberated areas of Kharkiv region, in various cities and towns," Zelenskiy said in a video address late on Saturday.
"Torture was a widespread practice in the occupied territories. That's what the Nazis did — this is what [the Russians] do," he added. "They will answer in the same way — both on the battlefield and in courtrooms."
Clutching a neatly written list of names and numbers, resident Volodymyr Kolesnyk stepped between graves looking for relatives he said were killed in an airstrike on an apartment building shortly before Izium fell to Russian forces in April.
Kolesnyk said he knew his relatives had been taken to the burial site and were in some of the graves marked with numbers.
He paused before a cross marked with the number 199 and after checking the list given to him by a local funeral company that dug the graves, carefully hung a small sign on it bearing the name of Yurii Yakovenko, his cousin.
He said cross number 164 was his cousin's wife and 174 was his cousin's mother, Kolesnyk's aunt.
"They buried the bodies in bags, without coffins, without anything. I was not allowed here at first. [The Russians] said it was mined and asked to wait. And there was a lot of them in the woods, so it was scary to come here," Kolesnyk told reporters.
Moscow has not commented on the discovery of the graves.
It regularly denies committing atrocities in the war or targeting civilians.
The head of the pro-Russian administration that abandoned the area earlier this month accused Ukrainians of staging the atrocities at the city of Izium.
"I have not heard anything about burials," Vitaly Ganchev told Rossiya-24 state television.
Putin has not responded to the accusations, but he brushed off Ukraine's swift counteroffensive, casting Russia's invasion as a necessary step to prevent what he said was a Western plot to break Russia apart.
"The Kyiv authorities announced that they have launched and are conducting an active counteroffensive operation," Putin said on Friday after a summit of the Shanghai Cooperation Organization in Samarkand, Uzbekistan. "Well, let's see how it develops, how it ends up."
Comments will be moderated. Keep comments relevant to the article. Remarks containing abusive and obscene language, personal attacks of any kind or promotion will be removed and the user banned. Final decision will be at the discretion of the Taipei Times.