Li Yundi detained over prostitution allegations
PROMPTING MOCKERY : A cryptic announcement of the pianist's detention by Beijing police was followed by CCTV commenting on the 'social morality' of celebrities
Concert pianist Li Yundi (李雲迪), one of China's most famous musicians, has been detained in Beijing over prostitution allegations, state media said on Thursday, prompting some incredulity and a lot of mockery on Chinese social media.
Reuters was unable to immediately reach Li or a representative for comment.
Police in the Chinese capital's Chaoyang District said they had detained a 39-year-old man surnamed Li, along with a 29-year-old female surnamed Chen, after receiving reports from the public of prostitution in a neighborhood they did not identify.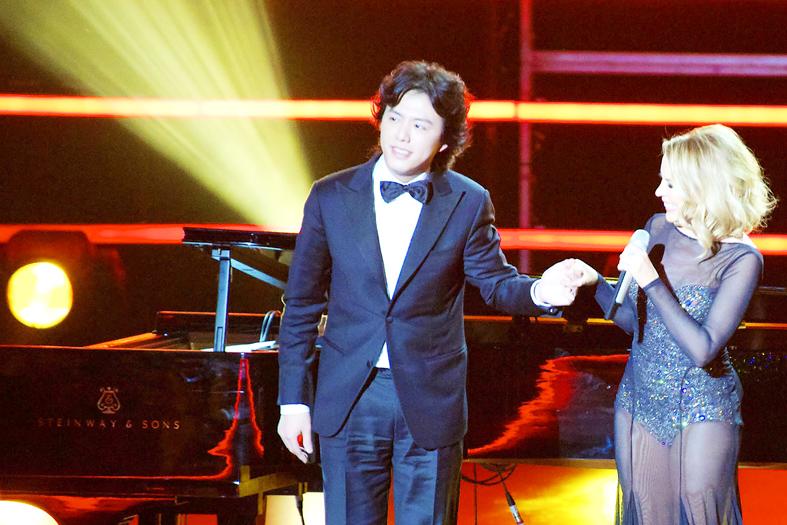 Chinese pianist Li Yundi appears on stage with Australian singer Kylie Minogue during the 2011 Elite Model Look contest in Shanghai, China, on Dec. 6, 2011.
Photo: AP
Both people confessed to the illegal activity, the police said in a statement on a microblogging platform.
The police account later posted a close-up photograph of a piano, adding: "This world has more colors than black and white, but one has to differentiate black and white. This is absolutely not to be confused."
The official People's Daily newspaper identified the man as Li Yundi, using the hashtag #LiYundiDetainedForProstitution. The hashtag had been viewed about 790 million times within two hours of the police post and garnered about 200,000 comments.
State broadcaster China Central Television said in a commentary about the arrest that "some celebrities have frequently challenged the social conscience, morality and even dignity of the law."
"Abiding by discipline and laws is the bottom line," the broadcaster added, without elaborating on what discipline it was referring to exactly. "Anyone who dares to cross this bottom line, and challenges laws and social morality is doomed."
The China Musicians Association yesterday said in a statement that it expelled Li for his "vile social impact."
"My God. Li Yundi, the piano prince?" one person wrote on social media.
At just 18, Li became the youngest pianist to win first prize at the prestigious International Chopin Piano Competition in 2000. He went on to perform in Vienna, New York and St Petersburg, Russia, and later became the youngest juror on the competition in 2015.
In that year, he also featured in a Toyota commercial alongside US singer Taylor Swift.
With planned recitals on an Australia and New Zealand tour last year postponed due to the COVID-19 pandemic, Li has over the past few months been appearing on a Chinese reality TV show.
Additional reporting by Bloomberg
Comments will be moderated. Keep comments relevant to the article. Remarks containing abusive and obscene language, personal attacks of any kind or promotion will be removed and the user banned. Final decision will be at the discretion of the Taipei Times.