Women's march demands ouster of Belarus leader
About 10,000 women on Saturday marched noisily through the Belarusian capital, Minsk, beating pots and pans and shouting for the resignation of the country's authoritarian president in the 35th consecutive day of large anti-government protests.
Many carried portraits of Maria Kolesnikova, a leader of the opposition Coordination Council that is seeking a new presidential election for the ex-Soviet nation of 9.5 million people.
She was jailed last week after police tried to force her out of the country.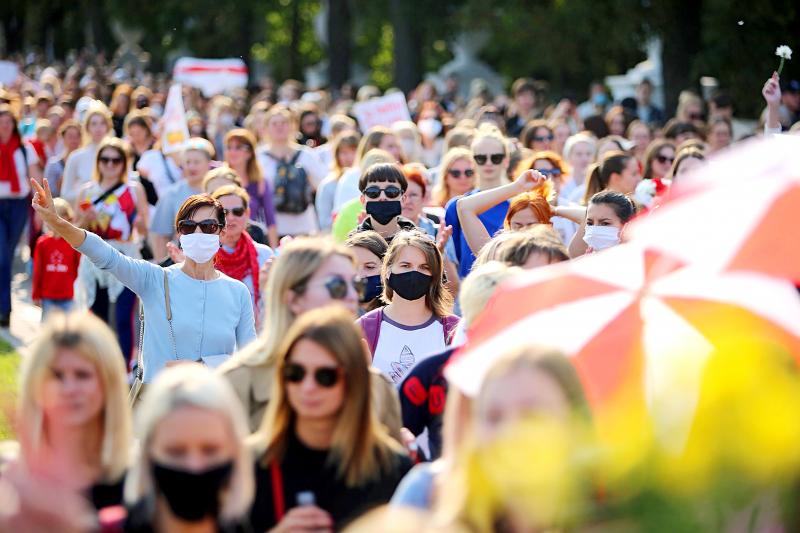 Women march to protest against last month's presidential election results in Minsk on Saturday.
Photo: AFP
Her lawyer has said that Kolesnikova was driven to the border with Ukraine, but tore up her passport and refused to leave Belarus.
Others carried placards reading: "You painted my heart with blue pain," referring to Belarusian President Alexander Lukashenko's claim that some women previously had painted themselves to appear to have been bruised by police beatings.
The human rights group Viasna said more than 70 people were detained by police during the march.
Lukashenko has refused to meet with the council and most of its leaders have been detained or have left the country.
The protests began on Aug. 9 after a presidential election that officials said handed Lukashenko a sixth term in office with 80 percent support.
Opponents and some poll workers said the election results were rigged.
Some protesters have displayed bruises from a violent police crackdown in the days after the election, when more than 7,000 protesters were detained.
As the protests persist, questions loom about possible action by Russia to prop up his regime. Lukashenko is to meet with Russian President Vladimir Putin today in their first face-to-face contact since the unrest began.
Comments will be moderated. Keep comments relevant to the article. Remarks containing abusive and obscene language, personal attacks of any kind or promotion will be removed and the user banned. Final decision will be at the discretion of the Taipei Times.