Chinese city calls on strict Muslims to confess 'crimes'
A city in China's far-western Xinjiang region has ordered people who are "poisoned by extremism, terrorism and separatism"; in contact with overseas terror groups; or act in a conservative Islamic manner to turn themselves in to authorities.
Those who surrender to law enforcement within a month and confess to their crimes would be treated leniently and might avoid punishment, the Hami City Government said in a notice posted on its official social media account on Sunday.
Beijing has in the past few months faced an outcry from advocates, academics and foreign governments over mass detentions and strict surveillance of the Muslim Uighur minority and other ethnic groups that live in Xinjiang.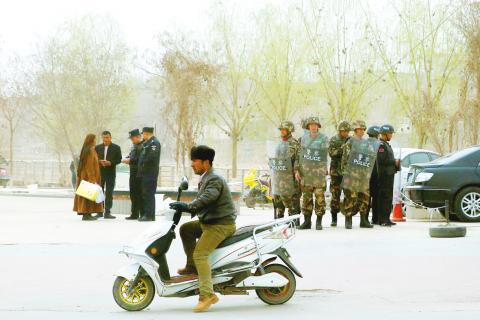 Police check people's identity cards as security forces keep watch on a street in Kashgar, a city in China's Xinjiang Uighur Autonomous Region, on March 24 last year.
Photo: Reuters
China rejects the criticism, saying that it protects the religion and culture of minorities in the region and that its security measures are needed to combat the influence of "extremist" groups that incite violence there.
"All individuals involved in terrorist crimes and poisoned by the 'three evil forces' are urged to surrender themselves to the judicial organs within 30 days and to confess and hand over the facts of your crime," the Hami notice said.
The notice issued by the municipal "leading small group for stability maintenance" says that actions ranging from being in contact with overseas "terror" groups to conservative Islamic behavior should prompt individuals to turn themselves in.
Advocating that people live their entire lives in accordance with the Koran, stopping other people from watching television, or banning alcohol, smoking and dancing at weddings are listed as behaviors that should warrant informing the authorities.
The list also included openly destroying, rejecting or thwarting the government identification system, as well as rejecting government-provided housing, subsidies and cigarettes or booze as being harem, or forbidden.
Those who turn themselves in on time would be treated leniently and if the information provided is significant, then they might avoid all punishment, the notice said.
In August, the UN Committee on the Elimination of Racial Discrimination, a human rights panel, said it had received many credible reports that 1 million or more Uighurs and other minorities in Xinjiang are being held in what resembles a "massive internment camp that is shrouded in secrecy."
China says it is not enforcing arbitrary detention and political re-education.
Aside from the mass detentions, rights groups also say that the Beijing has significantly raised limitations on everyday religious observances in the region.
Xinjiang's capital, Urumqi, last month launched a campaign targeting halal products, such as food and toothpaste, which are produced according to Islamic law, to prevent what it sees as the incursion of Islam into secular life.
Comments will be moderated. Keep comments relevant to the article. Remarks containing abusive and obscene language, personal attacks of any kind or promotion will be removed and the user banned. Final decision will be at the discretion of the Taipei Times.