Sirisena still pushing 'strongman'
SRI LANKAN MAYHEM: The president's choice for prime minister has challenged his ousted predecessor to a general election, tweeting: 'Go back to the people"
Sri Lankan President Maithripala Sirisena is not giving up on trying to install former strongman Mahinda Rajapaksa as prime minister, a quest that has plunged the country into a weeks-long political crisis.
Sirisena on Sunday night called for a third no-confidence vote for Rajapaksa after lawmakers rejected him the first two times. Yesterday, the 225-member Sri Lankan parliament was adjourned just five minutes after the house convened for the first time since lawmakers brawled and threw objects at each other last week.
The lawmakers failed to agree on a committee to draw up the legislature's agenda. They were to meet again on Friday.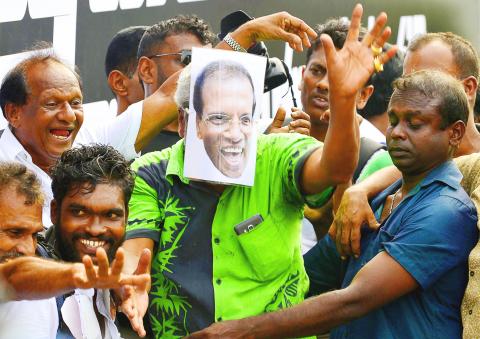 A supporter of ousted Sri Lankan prime minister Ranil Wickremesinghe wears a mask depicting Sri Lankan President Maithripala Sirisena during a rally in Colombo, Sri Lanka, on Thursday last week.
Photo: AFP
"The offer to take a vote by name or by electronic voting system was once again prevented by the members of the purported government today, illegally holding onto power, fearing their inability to prove their majority and of getting exposed," Sri Lanka Muslim Congress leader Rauff Hakeem said in a tweet.
The president has said he could only take a decision on the no-confidence motion if a vote is taken with member's names or by electronic voting.
"He pointed out that it would be the most accepted method of voting by the intellectuals and the public of the country, as well as internationally," a statement from the president said.
The disarray has left Sri Lanka without a prime minister after Sirisena abruptly removed Wickremesinghe on Oct. 26 and installed Rajapaksa.
Sirisena has refused to accept the parliament's no-confidence votes and Wickremesinghe has refused to leave the prime minister's official residence.
On Sunday, the rival factions held talks with Sirisena in an effort to negotiate an end to the crisis, but it ended in failure, according to the two sides.
The US has urged the democratic process to be respected as concern mounts that Sri Lanka would shift back toward China under Rajapaksa. The crisis has stalled foreign aid and a US$1.5 billion IMF program.
Rajapaksa has challenged Wickremesinghe to a general election to let the people decide. Sirisena had earlier dissolved the parliament after his party conceded that they lacked the numbers, but that was halted by the Sri Lankan Supreme Court on a challenge by Wickremesinghe.
"The only way out of this situation is to go back to the people of this country and seek a clear mandate to govern," Rajapaksa's party said on Twitter on Friday.
Legislators on both sides say that with the administration at a standstill, key sectors such as tourism are suffering badly.
Lawmakers yesterday also submitted a motion to suspend Rajapaksa's expenses.
A lawmaker from the Marxist People's Liberation Front said that last week's passing of the no-confidence motions meant that Rajapaksa's office and the government ceased to exist and therefore has no power to spend public money.
Lawmaker Anura Dissanayaka said parliament has the power over public finances and it was on that basis that yesterday's motion was submitted.
The vote is to take place on Thursday next week.
Additional reporting by AFP and AP
Comments will be moderated. Keep comments relevant to the article. Remarks containing abusive and obscene language, personal attacks of any kind or promotion will be removed and the user banned. Final decision will be at the discretion of the Taipei Times.