Southeast Asian farmers lament EU palm oil restrictions
Indonesian palm oil farmer Kawal Surbakti says his livelihood is under attack, but the threat is not from insects or hungry orangutans eating his prized crop.
Half a world away, the European Parliament is moving to ban the use of palm oil in biofuels, while British grocer Iceland has announced it will stop using the commodity over concerns that it causes widespread environmental destruction.
Losing the key European market worries small farmers like Surbakti and millions of others in Indonesia and Malaysia — the world's top two producers — as prices drop for an oil found in everything from biscuits and sweets to cosmetics and vehicle gas tanks.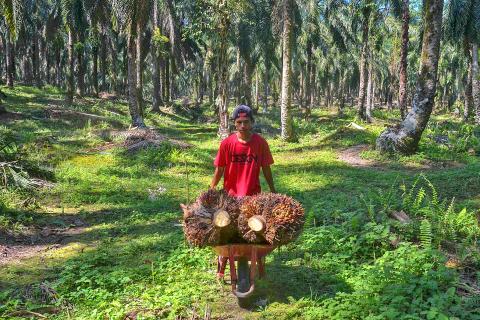 A worker transports palm oil seeds in Kampar, Indonesia, on Aug. 18.
Photo: AFP
"I've suffered serious losses," the 64-year-old Surbakti said from his two hectare farm on Indonesia's Sumatra Island. "Before, I could save up a little money, but now I can't even do that."
Across the Malacca Strait in Malaysia, grower Mohamad Isa Mansor issued a dire prediction as he plucked reddish-orange fruits from his trees.
"If the EU succeeds in the ban, I'm dead," he said at his small plantation in the coastal town of Ijok. "Without this crop we will be living in poverty. It is the source of income for thousands of people" here.
Europe is one of the world's biggest palm oil consumers, along with India and China.
About half of the palm oil used last year in Europe was for biofuels that ended up in gas tanks, according to environmentalists.
Indonesia and Malaysia have threatened retaliatory sanctions on European products over the proposed ban, which calls for a complete phase-out from biofuels by 2030.
As the diplomatic row smoulders, Indonesian grower Selamet Ketaren says he and other small farmers — the backbone of the industry — are pawns at the mercy of land-clearing multinational firms that buy their crops.
"Smallholder farmers like us are just victims of the big corporations," said Ketaren, who has been growing palm oil since the mid-80s.
Environmentalists accuse the multibillion-dollar industry of destroying huge swathes of rainforest that are home to orangutans and other threatened species, as well as indigenous communities.
Critics say that palm oil development also contributes to climate change through deliberate forest-clearing fires, which release carbon dioxide into the atmosphere and lung-clogging smog into the region's air.
Many under-pressure firms made "no deforestation" pledges, but environmentalists say they are tough to monitor and frequently broken in the vast jungles of Sumatra and Borneo islands.
Greenpeace said a group of Indonesian palm oil firms that supply major international brands, including Unilever and Nestle, have cleared an area of rainforest almost twice the size of Singapore in less than three years.
However, Malaysian farmer Mansor rejects the depiction of growers as an environmental threat.
The EU "says we cut down the forest, but my land is on peat soil. There was rubber growing here before," he said. "How can the EU claim that I'm killing the Earth?"
Comments will be moderated. Keep comments relevant to the article. Remarks containing abusive and obscene language, personal attacks of any kind or promotion will be removed and the user banned. Final decision will be at the discretion of the Taipei Times.