Trust in Philippines' Rodrigo Duterte falls to lowest level
Public trust in Philippine President Rodrigo Duterte dropped to the lowest of his presidency, a survey showed yesterday, although he still maintained a rating of "very good."
Trust is used by independent pollster Social Weather Stations (SWS) to gauge public opinion with a president's personality.
It fell 8 points in the second quarter to +57 from +65 in an earlier poll. It was the leader's lowest score in nine surveys taken since he took office in June 2016.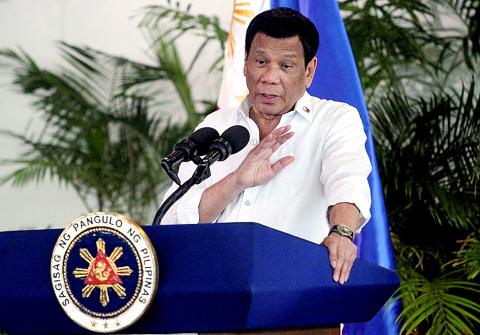 Philippine President Rodrigo Duterte speaks at a news conference at Davao International Airport in the Philippines yesterday.
Photo: Reuters
To reach each rating, the surveys subtract the percentage who respond with "low trust" in Duterte from those who said they had "much trust" in him.
SWS surveyed 1,200 people at the end of June, in a week when Duterte called God "stupid" during a verbal assault on the Catholic Church after top priests criticized his anti-narcotics campaign.
The Philippines is majority Catholic.
Duterte again hit out at the church in a news conference yesterday, calling priests' groups "the most hypocritical institution in the Philippines today," with the church facing child abuse cases in the Philippines and elsewhere.
Ramon Casiple, head of the Institute for Political and Electoral Reforms in Manila, said it was normal for a president's rating to fall two year into their term.
The survey did not ask respondents to explain their rating.
Duterte had enjoyed high trust ratings, peaking at +79 shortly after taking office.
Duterte did not mention the survey results, but a spokesman welcomed the support.
"We are now working double time to aid families affected by high prices while keeping the economy stable," presidential spokesman Harry Roque said in a statement.
Comments will be moderated. Keep comments relevant to the article. Remarks containing abusive and obscene language, personal attacks of any kind or promotion will be removed and the user banned. Final decision will be at the discretion of the Taipei Times.