Rohingya mark first Eid al-Adha since crackdown
RARE LUXURIES: Animals are traditionally slaughtered for the festival, but for many refugees such offerings are a painful reminder of a life they once had in Myanmar
Nearly 1 million Rohingya Muslims yesterday marked the Muslim Festival of Sacrifice, Eid al-Adha, in the world's largest refugee camp, almost a year to the day since a brutal military crackdown drove the persecuted minority from Myanmar in huge numbers.
Prayers were offered in makeshift mosques across southern Bangladesh to celebrate the festival as cows were slaughtered in muddy fields across the sprawling camps.
In Kutupalong, a gigantic hill settlement crammed with hundreds of thousands of refugees, a muezzin called the faithful to pray as children played on a wooden carousel and ran about in dirt alleyways in new clothes for the special day.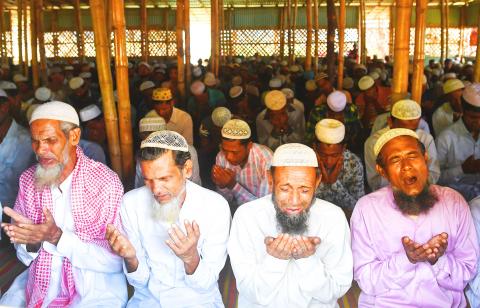 Rohingya refugees yesterday offer Eid al-Adha prayers at the Jamtoli refugee camp near Cox's Bazar, Bangladesh.
Photo: AFP
For many refugees, this Eid al-Adha is the first since their violent expulsion from Myanmar a year ago in a campaign of orchestrated violence likened by US and UN officials to ethnic cleansing.
Myanmar's military, backed by armed Buddhist militias, began sweeping through Rohingya villages in August last year, just days before Eid al-Adha celebrations got underway.
Memories of his torched homeland, and misery in Bangladesh, overshadowed festivities for 19-year-old Mohammad Issa, one of the 700,000 Rohingya who fled the bloody purge.
"In Myanmar we had money, we had cattle and land. Eid was happier there," he told reporters near a row of reeking pit latrines in Jamtoli camp, a new settlement for recently arrived refugees.
Muslims traditionally sacrifice animals for the three-day festival, a tribute to the prophet Abraham slaughtering a lamb after God spared Ishmael, his son.
Those able to make the sacrifice, known as qurbani, consume some of the meat and give the rest to the poor unable to buy food.
In Cox's Bazar near the border, where squalid camps host generations of Rohingya refugees expelled from western Myanmar, there is much need and little to go around.
Cows, goats and sheep flooded local markets catering to the displaced Muslims in the lead up to the festival. Some better-off families pooled whatever cash they could muster to make the sacrifice, buying shares in a cow or goat.
However, for most refugees — barred from legally working and surviving hand-to-mouth on charity — such luxuries are wildly beyond their means.
The sight of animals being fattened for slaughter taunted Mohammad Amin, a teenager who remembered the home-cooked meat delicacies and special gifts reserved for the holiest Muslim festivity back home.
"But here, we don't have any money to slaughter cows or buy new clothes," the downcast 15-year-old told reporters.
The influx of refugees delivered a bumper year for Bangladeshi livestock trader Aktar Hussain and others like him, who counted wads of cash at a busy cattle market adjacent to the camps.
"This has been my best year yet," he told reporters, as prospective Rohingya buyers examined a sturdy brown cow in a muddy clearing. "Last year, I sold 15 cows at Eid. This year, I've already sold 50."
Comments will be moderated. Keep comments relevant to the article. Remarks containing abusive and obscene language, personal attacks of any kind or promotion will be removed and the user banned. Final decision will be at the discretion of the Taipei Times.