More than 700 kids still separated in US
ELIGIBILITY: While the government said that the deadline for reunification had been met, the ACLU said that it was manipulating the figures to give an impression of success
The US government on Thursday said that hundreds of families it broke up at the border with Mexico have not been reunited as a court-ordered deadline to return all children to their parents elapsed.
A federal judge in California had ordered that all eligible migrant families be brought back together by 6pm and officials said in a court filing that 1,442 children aged five and older had been reunited with their parents.
"The reunification plan outlined to the court ... is proceeding, and is expected to result in the reunification of all class members found eligible for reunification at this time by the court's July 26, 2018, deadline," the government said.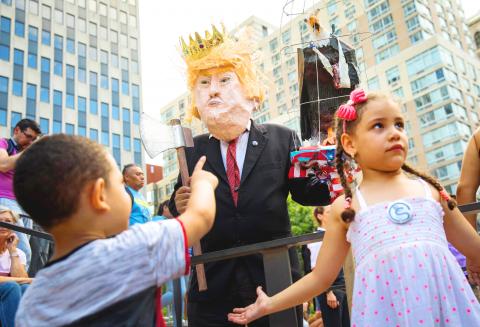 A man dressed as US President Donald Trump interacts with children as activists rally against the Trump administration's immigration policies outside the US Immigration and Customs Enforcement offices in New York on Thursday.
Photo: AFP
A further 378 children had already been released under other "appropriate circumstances," the filing added, but more than 700 children remain in custody.
However, the government said the deadline had been met, as those families were ineligible, either because family ties have not been confirmed, or the parent has a criminal record, a communicable disease or cannot be found.
The American Civil Liberties Union (ACLU), which brought the lawsuit to reunite the families, earlier on Thursday said that the government was manipulating the figures to give a false impression of success.
"These parents and children have lost valuable time together that can never be replaced. We're thrilled for the families who are finally reunited, but many more remain separated," Lee Gelernt, deputy director of the ACLU's Immigrants' Rights Project, said in a statement.
"The Trump administration is trying to sweep them under the rug by unilaterally picking and choosing who is eligible for reunification. We will continue to hold the government accountable and get these families back together," Gelernt said.
The deadline is seen as turning a page on the scandal, but the turmoil is barely beginning for many families that now face life-altering decisions, including whether or not to agree to long-term separations, rights advocates and lawmakers say.
Lawyer Efren Olivares of the Texas Civil Rights Project, which represents some parents, said the US treatment of migrant families had been marked by "chaos and cruelty," and that officials' rush to reunite parents and children lacked organization.
As the deadline neared, dozens of families with children gathered for a sit-in on Capitol Hill, while Democratic lawmakers blasted US President Donald Trump's "zero tolerance" border policy as un-American.
The separations triggered outrage in the US and abroad, especially after the release of audio of small children in shelters crying for their parents, many of whom fled turmoil and gang violence in Central America.
The pressure led to the president demanding an end to the separations six weeks later. Judge Dana Sabraw in San Diego then ordered the reunifications, setting Thursday as the deadline.
Yet the pace has been slow: Children and parents are being housed in different parts of the country, while many adults have been deported.
Government data indicates that the parent or parents of more than 430 children might already have been deported, some of them voluntarily — enormously complicating any possible reunion.
Democratic lawmakers who recently visited detention facilities near the border have accused the administration of continuing to separate families and disputed the government's characterization that parents were voluntarily leaving their children.
"Nobody chooses to be separated, unlike what this administration is saying," US Senator Catherine Cortez Masto said.
The American Immigration Lawyers Association (AILA) has submitted court documents containing testimony from parents who say they were coerced into signing off on their deportations.
"In nearly all of the cases we've seen, government officials used threats, false promises, misinformation and other coercive tactics," AILA president Anastasia Tonello said in statement. "The government's conduct calls into question whether any of these parents understood what they were agreeing to."
Comments will be moderated. Keep comments relevant to the article. Remarks containing abusive and obscene language, personal attacks of any kind or promotion will be removed and the user banned. Final decision will be at the discretion of the Taipei Times.