Trump taped talking of paying for story of Playboy model
US President Donald Trump's former personal lawyer secretly recorded Trump discussing a potential payment for a former Playboy model's account of having an affair with him, people familiar with an investigation into the attorney said on Friday.
The recording by attorney Michael Cohen adds to questions about whether Trump tried to quash damaging stories in the run-up to his 2016 election.
Trump's campaign had said it knew nothing about any payment to Karen McDougal.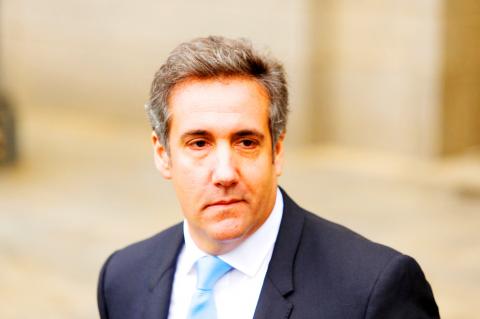 US President Donald Trump's lawyer Michael Cohen exits the US Federal Court in New York on April 16.
Photo: AFP
It could also further entangle the president in a criminal investigation that for months has targeted Cohen, his onetime lawyer and close ally.
Trump attorney Rudy Giuliani said the payment was never made and the brief recording shows Trump did nothing wrong.
"The transaction that Michael is talking about on the tape never took place, but what's important is if it did take place, the president said it has to be done correctly and it has to be done by check" to keep a proper record of it, Giuliani said.
One of Cohen's lawyers, Lanny Davis, said: "Any attempt at spin cannot change what is on the tape."
"When the recording is heard, it will not hurt Mr Cohen," Davis said in a statement.
Cohen surreptitiously made the recording two months before the election, a person familiar with a federal investigation into Cohen said.
The person spoke on condition of anonymity as the inquiry is ongoing.
The conversation between Trump and Cohen came weeks after the National Enquirer's parent company reached a US$150,000 deal to pay McDougal for her story of a 2006 affair, which it never published, a tabloid practice known as "catch and kill."
Trump denies the affair ever happened.
McDougal's former attorney, Keith Davidson, has been cooperating with investigators, Davidson spokesman Dave Wedge has said.
Davidson declined to comment on Friday.
Comments will be moderated. Keep comments relevant to the article. Remarks containing abusive and obscene language, personal attacks of any kind or promotion will be removed and the user banned. Final decision will be at the discretion of the Taipei Times.