China's ozone levels hit record high last month
'HEALTH THREAT': Lower levels of floating particulate matter have strengthened the sunlight, leading to more ozone pollution, which might cause asthma in children
Concentrations of lung-damaging ozone last month hit a record high in China, rising 11 percent from the same month last year, Greenpeace said yesterday, citing official data.
Despite China's four-year battle against air pollution, ozone has become "an emerging health threat," Greenpeace said.
Average levels in the capital, Beijing, stood at 120 micrograms per cubic meter last month, about double the rates in ozone hotspots such as California and Mexico City.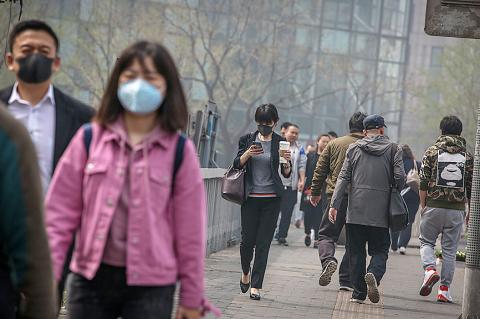 People wearing masks walk on a street in Beijing on April 2.
Photo: EPA
The Chinese Ministry of Ecology and Environment on Tuesday said that it expected ozone pollution to be particularly high in the region surrounding Beijing over the next 10 days.
Ground-level ozone, known as "sunburn for the lungs," is caused by the interaction of sunlight with nitrogen dioxide and volatile organic chemicals (VOCs).
It can lead to shortness of breath, coughing and inflamed airways, according to the US Environmental Protection Agency.
Children are at the greatest risk and prolonged exposure might cause asthma and abnormal lung development.
"Likely reasons for surging ozone levels include stubbornly high nitrogen dioxide emissions from heavy industry and transport, and increasing VOC emissions from a wide range of industries from petroleum refining, plastics manufacturing and other chemical industries, construction, and from cars and trucks," Greenpeace said.
Citing figures from the Global Burden of Disease database, Greenpeace said ozone exposure was responsible for about 70,000 premature deaths in China in 2016.
A study published in April by Peking University said ozone concentrations rose 40 percent or more in 10 northern Chinese cities from 2014 to last year, despite tough new measures to clean up industry and traffic.
China's efforts to cut floating particulate matter had actually increased the strength of sunlight, creating more ozone, the study said.
Experts had urged China to target ozone pollution in its latest three-year anti-smog plan released last month, but no special measures were included.
Chinese Deputy Minister of Ecology and Environment Zhao Yingmin (趙英民) told a news briefing that while average ozone concentrations rose 8 percent last year, hazardous floating particles known as PM2.5 — fine particulate matter measuring 2.5 micrometers or smaller — remained the country's priority.
Comments will be moderated. Keep comments relevant to the article. Remarks containing abusive and obscene language, personal attacks of any kind or promotion will be removed and the user banned. Final decision will be at the discretion of the Taipei Times.