Duterte says Xi Jinping will not allow his removal
Philippine President Rodrigo Duterte said Chinese President Xi Jinping (習近平) has personally assured him that Beijing would not allow him to be removed from office.
"The assurances of Xi are very encouraging: We will not allow you to be taken out from your office and we will not allow the Philippines to go to the dogs," Duterte said in a speech on Tuesday.
Duterte is approaching the end of the second year of his six-year term as president. While the Philippine constitution bars presidents from serving more than one term, Duterte has repeatedly rejected calls from his allies to try to seek another term. He has even said that he would like to cut short his time in office.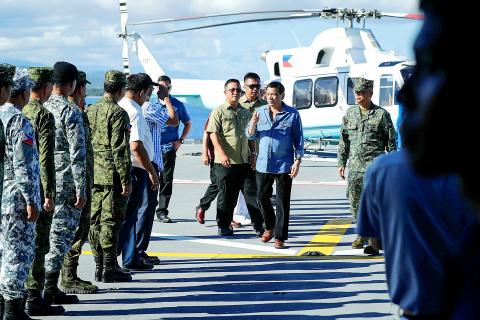 Photo: EPA
Duterte, who did not say when Xi made the remarks, met with Xi on the sidelines of the Boao Forum for Asia in China's Hainan Province on April 10. It was Duterte's third meeting with Xi since he took office at the end of June 2016.
Philippine Senator Francis Pangilinan, leader of the opposition Liberal Party, questioned whether Xi's assurances were the reason Duterte is making use of substantial Chinese loans and has been reluctant to criticize Beijing's actions in the South China Sea.
"Is China support for this administration to ensure its iron clad grip on power? Whose interest is being pursued by depending on China?" Pangilinan said in a statement.
Duterte spent most of his hour-long speech aboard a navy vessel justifying his decision to set aside a July 2016 international court ruling dismissing China's claims to more than 80 percent of the South China Sea in a case brought by his predecessor Benigno Aquino.
Recalling how "the ever cool guy" Xi convinced him to focus on restoring relations between the two nations, he said the more "you remain meek and humble" with the likes of Xi, the more you stand to gain.
Duterte said his goal regarding the South China Sea is to get whatever he can, such as a joint exploration agreement for about 1.2 trillion cubic meters of natural gas.
In what could be a prelude to forging military ties with China, Duterte said that if the Philippines ever ran out of soldiers, he would ask Xi to send over three battalions of fully geared troops.
Comments will be moderated. Keep comments relevant to the article. Remarks containing abusive and obscene language, personal attacks of any kind or promotion will be removed and the user banned. Final decision will be at the discretion of the Taipei Times.