Hundreds arrested for Paris violence
RUNNING AMOK: Looting and destruction overshadowed the annual May Day march in the capital, which drew up to 55,000 peaceful protesters, according to estimates
Nearly 300 protesters were arrested on Tuesday after May Day riots in central Paris, where hooded youths torched a McDonald's restaurant and several vehicles during a march against French President Emmanuel Macron's public-sector reforms.
Shouting "Rise up, Paris" and "Everyone hates the police," about 1,200 people in black jackets and masks joined the traditional May 1 union-led demonstration for workers' rights, Paris police said.
After trying to hold up the march a group of protesters ran amok along the route, destroying a McDonald's restaurant near Austerlitz station, east of the city center, and setting it ablaze.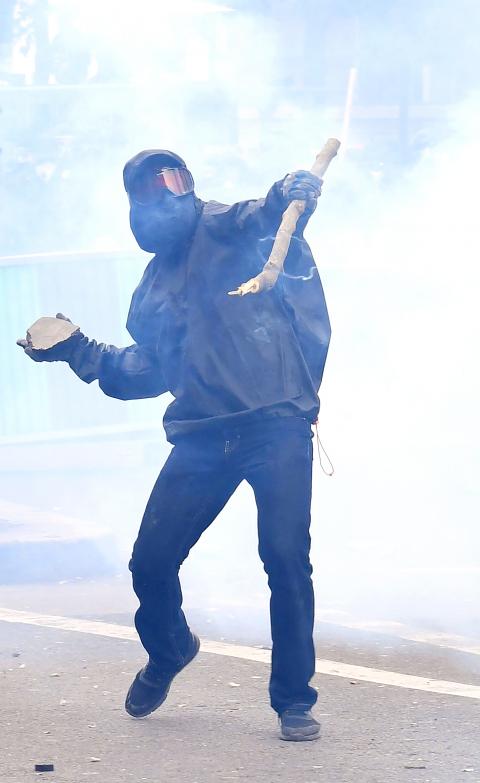 A protester throws a missile during a demonstration on the sidelines of the May Day march in Paris, France, on Tuesday.
Photo: AFP
They also torched vehicles at a car dealership, along with a mechanical digger and a scooter, leaving a trail of destruction and plumes of dark smoke billowing into the air.
The worst unrest in months in Paris comes at a time of heightened tensions over Macron's reform of the public sector, and follows a showdown between police and anti-capitalist squatters at a sprawling commune in western France.
Paris police officers used tear gas and water cannon to disperse the demonstrators.
On Tuesday night, 102 people remained in custody out of 276 who were arrested, police said, adding: "31 businesses were damaged, of which two were burned, six vehicles were burned and 10 others damaged."
Macron condemned the violence, posting on Twitter during his trip to Australia: "Everything will be done so that the perpetrators are identified and held responsible for their actions."
He added that the demonstrations would be treated with "absolute firmness."
EXTREMISTS
Police had warned of the risk of extremist groups using May Day to set up a rematch of the clashes seen during demonstrations last year over Macron's labor reforms and at an anti-capitalist camp in western France that was demolished by police earlier this month.
"Macron makes us mad," a banner held by one masked demonstrator read.
"We're tired of this capitalist system that destroys everything and of brutal police repression of all those who oppose it," said a 19-year-old student, who was part of the group.
The scenes of looting and destruction overshadowed the May Day march, which drew between 20,000 and 55,000 peaceful protesters, according to police and union estimates.
Nationwide, about 143,000 people took part in labor marches, according to government estimates, up slightly on last year.
REFORMS
Trade unions and students' unions have been trying to rally the French against Macron's shake-up of indebted state rail operator SNCF and access to public universities, which they see as part of a rollback of France's cherished public service.
Polls show the French supporting those reforms, but being more critical of Macron's fiscal policy, seen as favoring the wealthy over the working and middle classes.
"Macron is the president of the rich," said Genevieve Durand, a retired public servant who took part in a march in the central city of Clermont-Ferrand, echoing a label that has clung to the centrist leader.
The energetic 40-year-old, who vowed during campaigning to make France more competitive, has insisted he will not budge from his course.
"I'm doing what I said I would," Macron said during a television interview to mark the first anniversary of his election on Monday next week.
Comments will be moderated. Keep comments relevant to the article. Remarks containing abusive and obscene language, personal attacks of any kind or promotion will be removed and the user banned. Final decision will be at the discretion of the Taipei Times.