Ex-first lady Barbara Bush dies at 92
FIRST MOTHER: The matronly literacy advocate was the second US first lady to have a child who was elected president, but unlike Abigail Adams lived to see him take office
Barbara Bush, the snowy-haired first lady and mother of a president whose plainspoken manner and utter lack of pretense made her more popular at times than her husband, former US president George H.W. Bush, died on Tuesday, a family spokesman said. She was 92.
Barbara Bush brought a grandmotherly style to buttoned-down Washington, often appearing in her trademark fake pearl chokers, and displaying no vanity about her white hair and wrinkles.
"What you see with me is what you get. I'm not running for president — George Bush is," she said at the 1988 US Republican National Convention, where her husband, then US vice president, was nominated to succeed then-US president Ronald Reagan.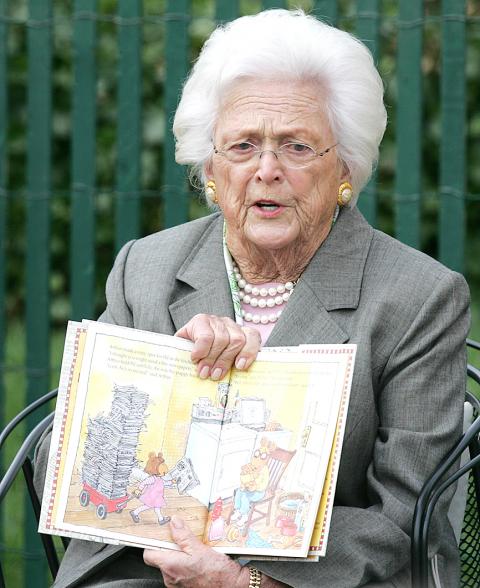 Former US first lady Barbara Bush reads Arthur's New Puppy at the Easter Egg Roll on the South Lawn of the White House in Washington on March 24, 2008.
Photo: AFP
The Bushes, who married on Jan. 6, 1945, had the longest marriage of any presidential couple in US history.
Barbara Bush was one of only two US first ladies who had a child who was elected president. The other was Abigail Adams, wife of former US president John Adams and mother of former US president John Quincy Adams.
"I had the best job in America," Barbara Bush wrote in a 1994 memoir describing her time in the White House. "Every single day was interesting, rewarding, and sometimes just plain fun."
On Sunday, family spokesman Jim McGrath said the former first lady had decided to decline further medical treatment for health problems and focus instead on "comfort care" at home in Houston.
She had been in the hospital recently for congestive heart failure and chronic obstructive pulmonary disease.
In 2009, she had heart valve replacement surgery and had a long history of treatment for Graves' disease, a thyroid condition.
George H.W. Bush held his wife's hand all day on Tuesday and was at her side when she died, said Jean Becker, chief of staff at George H.W. Bush's office in Houston.
Funeral arrangements were not immediately released.
The publisher's daughter and oilman's wife could be caustic in private, but her public image was that of a self-sacrificing, supportive spouse who referred to her husband as her "hero."
In the White House, "you need a friend, someone who loves you, who's going to say: 'You are great,'" Barbara Bush said in a 1992 televised interview.
Eight years after leaving the nation's capital, Barbara Bush stood with her husband as their son former US president George W. Bush was sworn in as president.
They returned four years later when he won a second term.
Unlike Barbara Bush, Abigail Adams did not live to see her son's inauguration. She died in 1818, six years before John Quincy Adams was elected.
In her 1994 autobiography, Barbara Bush: A Memoir, Barbara Bush said she did her best to keep her opinions from the public while her husband was in office.
However, she revealed that she disagreed with him on two issues: She supported legal abortion and opposed the sale of assault weapons.
Barbara Bush raised five children: George W., Jeb, Neil, Marvin and Dorothy. A sixth child, three-year-old daughter Robin, died of leukemia in 1953.
In 2003, she wrote a follow-up memoir, Reflections: Life After the White House.
Along with her memoirs, she wrote C. Fred's Story and Millie's Book, based on the lives of her dogs. Proceeds from the books benefited adult and family literacy programs.
Barbara Bush was born Barbara Pierce in Rye, New York. Her father was the publisher of McCall's and Redbook magazines.
After attending Smith College for two years, she married young naval aviator George H.W. Bush. She was 19.
After World War II, the Bushes moved to the Texas oil patch to seek their fortune and raise a family. It was there that George H.W. Bush began his political career, representing Houston for two terms in the US House of Representatives in the late 1960s and early 1970s.
In all, the Bushes made more than two dozen moves that circled half the globe before landing at the White House in 1989. Opinion polls taken over the next four years often showed her approval ratings higher than her husband's.
The couple's final move, after Bush lost the 1992 election to former US president Bill Clinton, was to Houston, where they built what she termed their "dream house" in an affluent neighborhood.
After retiring to Houston, the Bushes helped raise funds for charities and appeared frequently at events, such as Houston Astros baseball games. Public schools in the Houston area are named for both of them.
In 1990, Barbara Bush gave the commencement address at all-women Wellesley College.
Some had protested her selection, because she was prominent only through the achievements of her husband.
Her speech that day was rated by a survey of academics in 1999 as one of the top 100 speeches of the century.
"Cherish your human connections," Barbara Bush told graduates. "At the end of your life, you will never regret not having passed one more test, winning one more verdict or not closing one more deal. You will regret time not spent with a husband, a child, a friend or a parent."
Comments will be moderated. Keep comments relevant to the article. Remarks containing abusive and obscene language, personal attacks of any kind or promotion will be removed and the user banned. Final decision will be at the discretion of the Taipei Times.