Rally in Sana'a marks three years of war
Tens of thousands of Houthi rebel supporters yesterday demonstrated in Yemen's capital to mark three years of war, hours after neighboring Saudi Arabia said it had intercepted seven rebel missiles.
A Saudi Arabian-led military coalition entered Yemen in March 2015 with the goal of restoring its "legitimate" government to power after the Houthis and their allies took over Sana'a.
Sabaeen Square in Sana'a yesterday was a sea of Yemeni flags, with a smattering of posters bearing pictures of Houthi leader Abdulmalik al-Houthi, or the slogan "three years of aggression."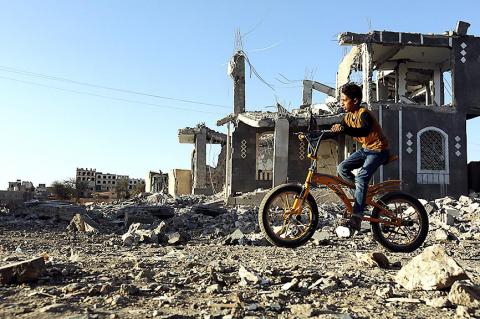 A Yemeni boy rides a bicycle past debris of a building allegedly destroyed by recent airstrikes in Sana'a on Sunday, the third anniversary of the Saudi Arabian-led military campaign on Yemen.
Photo: EPA-EFE
"This is legitimacy!" one protest leader bellowed.
Around 10,000 Yemenis have been killed and 53,000 wounded since the start of the coalition intervention, triggering what the UN has called the world's worst humanitarian crisis.
The Iran-backed rebels remain in control of the capital, north Yemen and the country's largest port.
Yemeni President Abd Rabbu Mansour Hadi's forces have controlled southern Yemen since 2015, but cracks have surfaced this year between the president and his southern separatist allies.
Saudi Arabian forces on Sunday night announced that they had intercepted seven Yemeni rebel missiles, including over Riyadh.
One Egyptian was killed by falling shrapnel in the capital, authorities said.
"This aggressive and hostile action by the Iran-backed Houthi group proves that the Iranian regime continues to support the armed group with military capabilities," coalition spokesman Turki al-Malki said.
The Houthi-run al-Masirah television channel claimed that the rebels had targeted Riyadh's King Khalid International Airport, as well as other air strips in the south of the kingdom.
The Houthis in November targeted Riyadh airport in what Saudi Arabian authorities said was a foiled missile attack, triggering a total blockade on Yemen's ports and international airport.
The blockade was later eased under international pressure.
In a speech on Sunday night, rebel chief Abdelmalik al-Houthi said his fighters were ready to make more "sacrifices" against the Saudi Arabian-led coalition.
Comments will be moderated. Keep comments relevant to the article. Remarks containing abusive and obscene language, personal attacks of any kind or promotion will be removed and the user banned. Final decision will be at the discretion of the Taipei Times.