Easing Russian sanctions raised
EASTERN UKRAINE: The ongoing conflict is among the topics being discussed at the three-day Munich Security Conference that began on Friday and on the sidelines
German Minister for Foreign Affairs Sigmar Gabriel yesterday said he favored easing some sanctions imposed on Russia if a ceasefire could be implemented in eastern Ukraine with the help of UN peacekeepers.
Gabriel said it was "not realistic" to insist on full implementation of the Minsk peace accords before offering some sanctions relief to Moscow.
He said he realized his view differed from the official position — that sanctions could only be eased when the Minsk peace accord was fully implemented — but said it was in the world's interest to break the current impasse.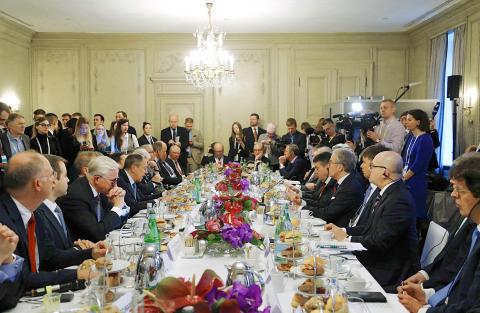 Journalists and photographers crowd into a meeting of Russian Minister of Foreign Affairs Sergei Lavrov and German Minister of Foreign Affairs Sigmar Gabriel at the Munich Security Conference in Germany on Friday.
Photo: Reuters
A Russia-backed separatist insurgency led to fighting in eastern Ukraine that has killed about 10,000 people since 2014.
While the Kremlin denies providing military support for separatists there, the EU and the US have imposed sanctions on Russia for backing the rebels and for annexing Crimea from Ukraine.
Full-scale combat largely ended in 2015 after France, Germany, Russia and Ukraine sponsored a ceasefire agreement in the Belarus capital, Minsk, but casualties are still reported on a near daily basis.
Russia last proposed bringing UN peacekeeping forces into eastern Ukraine.
Gabriel said that while there were fundamental differences over that plan, it was "one of the few realistic options" for trying to end the violence, and Germany would push for progress on it at the UN.
"We need progress urgently because the world is becoming more dangerous," Gabriel told a meeting also attended by Russian Foreign Minister Sergei Lavrov on the sidelines of the annual three-day Munich Security Conference.
Gabriel and Lavrov were due to hold a face-to-face meeting later yesterday, but plans for a four-way meeting on the Ukraine crisis on Friday to include France and Ukraine collapsed after a scheduling conflict.
Organisation for Security and Co-operation in Europe (OSCE) Secretary-General Thomas Greminger on Friday said in Munich that urgent efforts were needed to jumpstart the peace process.
Greminger said that continued daily ceasefire violations could spiral out of control, adding that the OSCE still sees an average of 1,000 ceasefire violations a day in eastern Ukraine.
"This has to stop," he said.
Later, in a fiery speech to the conference, Ukrainian President Pedro Poroshenko urged delegates to push for UN peacekeepers to be deployed across the entire region controlled by pro-Russian separatists.
Comments will be moderated. Keep comments relevant to the article. Remarks containing abusive and obscene language, personal attacks of any kind or promotion will be removed and the user banned. Final decision will be at the discretion of the Taipei Times.