Two dead, 17 injured in Kentucky school shooting
IN SILENCE: Students at the US high school had been drilled on what to do in case of an active shooter on the school grounds with some running as far as 1.6km away
A 15-year-old student on Tuesday killed two classmates and hit a dozen others with gunfire, methodically firing a handgun inside a crowded atrium at his rural Kentucky high school.
"He was determined. He knew what he was doing," said Alexandria Caporali, who grabbed her stunned friend and ran into a classroom as their classmates hit the floor.
"It was one right after another — bang, bang, bang, bang, bang," she added. "You could see his arm jerking as he was pulling the trigger."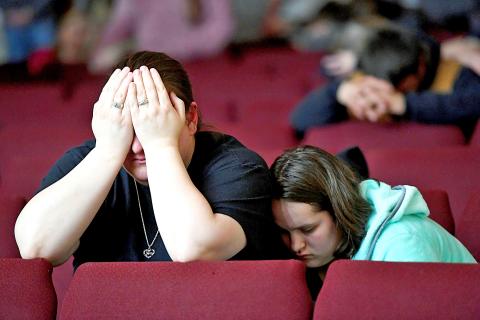 A mother and her daughter yesterday attend a prayer vigil at Life in Christ Church in Marion, Kentucky, for students killed and injured on Tuesday after a 15-year-old boy opened fire with a handgun at Marshall County High School.
Photo: Reuters
He kept firing, she said, until he ran out of ammunition and took off running, trying to get away.
Police arrested the suspect moments later, leading him away in handcuffs to be charged with murder and attempted murder.
Authorities did not identify the gunman responsible for the US' first fatal school shooting of the year, nor did they release any details about a motive.
Kentucky State Police Lieutenant Michael Webb said detectives are looking into his home and background.
"He was apprehended by the sheriff's department here on site, at the school, thankfully before any more lives could be taken," Webb said.
Seventeen students were injured, 12 of them hit with bullets and five others hurt in the scramble as hundreds of students fled for their lives from Marshall County High School.
Many jumped into cars, or ran across fields and down the highway, some not stopping until they reached a McDonald's restaurant more than 1.6km away. Parents left their cars on both sides of an adjacent road, desperately trying to find their teenagers.
"No one screamed. It was almost completely silent as people just ran," said Caporali, 16.
She said most students knew what to do because they are drilled throughout the year on how to respond to an active shooter at school.
The two fatalities were 15 years old: Bailey Nicole Holt died at the scene, and Preston Ryan Cope died later at a hospital, Kentucky State Police Commissioner Richard Sanders said.
Cope was among six young men flown about 193km to Vanderbilt University Medical Center in Nashville, Tennessee.
Five others were in critical condition on Tuesday night, Sanders said.
The attack marked the year's first fatal school shooting, 23 days into the year, according to data compiled by the Gun Violence Archive, which relies on media reports and other information.
Everytown for Gun Safety, which advocates for gun control, has counted at least 283 shootings at schools since 2013.
Kentucky Governor Matt Bevin and several people in Benton, Kentucky, said they could not believe a mass shooting would happen in their small, close-knit town, but many such shootings across the US have happened in rural communities.
Marshall County High School is about 30 minutes from Heath High School in Paducah, Kentucky, where a 1997 mass shooting killed three and injured five.
Michael Carneal, then 14, opened fire there about two years before the fatal attack at Columbine High School in Colorado, ushering in an era when mass school shootings have become much more common.
Meanwhile, in the small North Texas town of Italy, a 15-year-old girl was recovering on Tuesday after police said she was shot by a 16-year-old classmate in her high-school cafeteria on Monday, sending dozens of students scrambling for safety.
Police in Louisiana are also investigating shots fired on Monday as students gathered outside their charter school.
"It's horrifying that we can no longer call school shootings 'unimaginable' because the reality is they happen with alarming frequency," said Gabrielle Giffords, who survived being shot in the head in 2011.
Comments will be moderated. Keep comments relevant to the article. Remarks containing abusive and obscene language, personal attacks of any kind or promotion will be removed and the user banned. Final decision will be at the discretion of the Taipei Times.