Close Netanyahu ally grilled by Israeli police
Israeli police yesterday were questioning a close ally of Israeli Prime Minister Benjamin Netanyahu on corruption changes.
Coalition whip David Bitan was being grilled in relation to accusations that he promoted the interests of criminals in return for debt relief while he was a municipal politician prior to his election to parliament.
Bitan is the driving force behind a legislation drive seen as aiding the beleaguered Netanyahu, who faces multiple corruption accusations.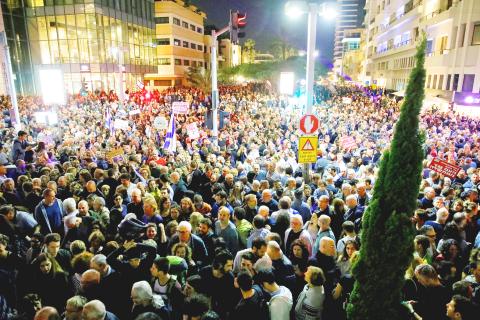 Israelis take part in a protest in Tel Aviv on Saturday night against government corruption and the slow pace of investigations into allegations into multiple corruption allegations against Israeli Prime Minister Benjamin Netanyahu.
Photo: Reuters
Thousands of Israelis turned out late on Saturday in Tel Aviv for an anti-corruption rally calling on Netanyahu to resign.
They protested against what they say is corruption within the government and the slow pace of investigations against Netanyahu.
Netanyahu is suspected of receiving luxury gifts from wealthy supporters and has also faced police questioning over a secret deal he allegedly sought for favorable coverage with the publisher of top-selling daily Yediot Aharonot.
The rally — dubbed "the march of shame" — was organized by the leaders of weekly protests, which have taken place outside the home of Israeli Attorney General Avishai Mandelblit over the past few months.
It was one of the largest demonstrations yet against Netanyahu's lengthy rule.
Netanyahu has been questioned in two cases and police say they suspect him of being involved in bribery, fraud and breach of trust. Netanyahu denies any wrongdoing.
In addition to suspicions that the gifts constituted bribery, the police also suspect that Netanyahu sought a secret pact — not believed to have been finalized — which would have seen him receive favorable coverage in return for helping curb Yediot's competitor, the pro-Netanyahu freesheet Israel Hayom.
Netanyahu has consistently denied any wrongdoing and has said he has been the target of a campaign by political opponents.
Opposition leader Isaac Herzog expressed solidarity with the protesters, writing on Facebook that "the frustration ... stems from a feeling of injustice, revulsion against corruption and the moral objection to a law made to measure for one person."
The Israeli parliament is today to give a second and third reading of a bill that Netanyahu's opponents say is designed to help him survive the police investigation.
The bill's sponsor, David Amsalem of Netanyahu's Likud party, said he sought only to protect the rights and reputation of suspects.
Additional reporting by AFP
Comments will be moderated. Keep comments relevant to the article. Remarks containing abusive and obscene language, personal attacks of any kind or promotion will be removed and the user banned. Final decision will be at the discretion of the Taipei Times.