Labour overtakes National in 'bombshell' NZ survey
The race to form New Zealand's next government yesterday took an unexpected turn as a "bombshell" poll showed the opposition Labour Party had overtaken the ruling National Party, threatening its almost decade-long hold on power.
New Zealand Prime Minister Bill English, a political veteran and former minister of finance, faces a highly contested race against Labour's Jacinda Ardern, whose charisma and rising popularity have prompted domestic media to coin the term "Jacindamania."
National fell 3 points to 41 percent, its lowest result since 2005, in a poll commissioned by 1 News and published on its Web site only an hour before English and Ardern face off in a debate.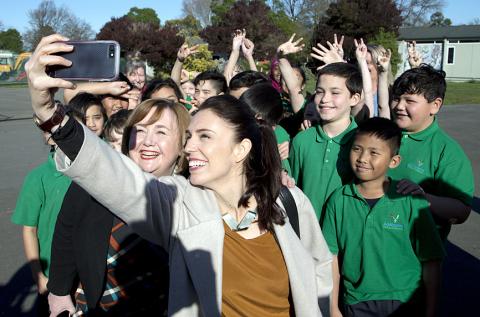 New Zealand Labour Party leader Jacinda Ardern, center, poses for a selfie with students of Addington School in Christchurch on Aug. 16.
Photo: AP
Support for the newly invigorated Labour Party jumped 6 points to 43 percent, after the last-minute leadership change boosted its chances.
"This is a bombshell," said Bryce Edwards, political analyst at Wellington-based Critical Politics. "It does mean that this campaign has turned on its head. National being in second place is entirely unexpected for the last 10 years."
Ardern yesterday said she was not taking anything for granted.
"I'm certainly not going to decide that it's somehow a done deal right now," she said during the debate.
English took jabs at Ardern's "confusing" and "vague" policies, while Ardern criticized National for failing to resolve the housing crisis after nine years in government.
Arden said she wanted to "make sure my generation can get into housing," while English questioned how she would achieve that if she stopped migrants coming in to build homes.
Labour plans to cut immigration by up to 30,000 a year from the current annual record level of 70,000.
Ardern, 37, took the helm of the Labour Party this month, after poor poll results prompted the resignation of Andrew Little, breathing fresh air into an election that until then had been widely considered a slam dunk for National.
National or Labour would still need to strike a deal with smaller parties to form a government.
Comments will be moderated. Keep comments relevant to the article. Remarks containing abusive and obscene language, personal attacks of any kind or promotion will be removed and the user banned. Final decision will be at the discretion of the Taipei Times.