Turkey opposition newspaper's staff released from jail
BITTERSWEET: Cartoonist Musa Kart said he could not celebrate his freedom while four prominent journalists remained in jail, expressing hope they would be let go
Seven staff from Turkish opposition newspaper Cumhuriyet were early yesterday released from prison after more than eight months behind bars, expressing hope four colleagues still in prison would be released soon.
An Istanbul court on Friday ordered the release of the seven in a trial seen as a test for press freedom under the rule of Turkish President Recep Tayyip Erdogan, but kept the most prominent journalists in jail.
The staff from the newspaper, one of the few voices in the media in Turkey to oppose Erdogan, had been charged with aiding terror groups in accusations denounced as absurd by supporters.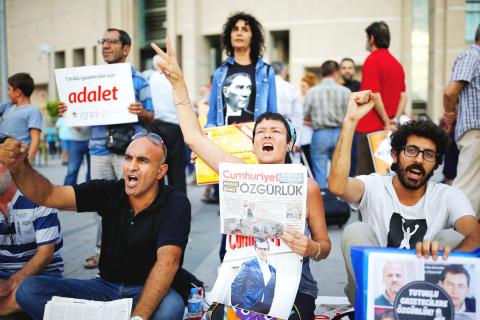 Journalists and activists on Friday rally outside a court in Istanbul, where staff from the Cumhuriyet were on trial for allegedly aiding terrorist organizations through the newspaper's reporting.
Photo: AP
Those freed have been released under judicial control, meaning they would have to report regularly to authorities and remain charged.
The seven, including the newspaper's respected cartoonist, Musa Kart, were freed from Silviri jail on the outskirts of Istanbul early yesterday following the court's decision.
"We were taken away from the people we love, our relatives, our work," Kart said after his release, but added: "Believe me, during this period in jail we have felt no hatred, no rancor; we could not live with such thoughts."
The others released include books supplement editor Turhan Gunay, as well as the newspaper's legal executives. They had been held for 271 days in jail.
The four remaining in custody are commentator Kadri Gursel, investigative journalist Ahmet Sik, editor-in-chief Murat Sabuncu and chief executive Akin Atalay.
"I thought I was going to be very happy to find out that I was going to be released, but I can't say that today. Unfortunately, four of our friends are still behind bars," Kart said. "The image of journalists in jail is not flattering for our country and I hope our four friends will come out as soon as possible."
The staff have been charged with supporting in their coverage three groups that Turkey considers terror groups — the Kurdistan Workers' Party, the ultra-left Revolutionary People's Liberation Party-Front and the movement of Fethullah Gulen, a US-based preacher who Ankara accuses of ordering a coup attempt last year.
The next hearing was set for Sept. 11. If convicted, they face varying terms of up to 43 years in jail.
Prosecutors said that they would file new accusations against Sik over an incendiary defense statement he made on Wednesday, slamming Turkey's ruling party over its past cooperation with the Gulen movement.
Comments will be moderated. Keep comments relevant to the article. Remarks containing abusive and obscene language, personal attacks of any kind or promotion will be removed and the user banned. Final decision will be at the discretion of the Taipei Times.