Man charged with abducting Chinese student in US city
A US man was on Friday charged with abducting a Chinese student who investigators believe is now dead, a court document showed.
Brendt Christensen, 28, was arrested by FBI agents in Champaign, Illinois, on Friday.
He is to remain in custody until he appears in federal court tomorrow to face a charge of kidnapping in the June 9 disappearance of Zhang Yingying (章瑩穎), 26, the University of Illinois Police Department said in a statement.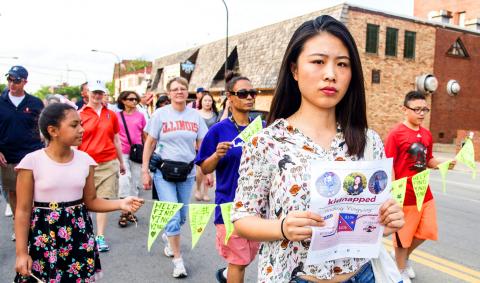 University of Illinois graduate student Wan Fangqin on Thursday attends a march to highlight the disappearance of Zhang Yingying.
Photo: AP
The arrest came one day after hundreds marched in support of Zhang, an expert on photosynthesis and crop productivity who came to study at the University of Illinois two months ago, according to local media.
Her father and other family members traveled from China to Champaign to join in the search for Zhang.
"There are no words that can explain why or how such a terrible thing should happen nor is there anything I might say that will ease the grief of any of you who knew her," university chancellor Robert Jones said in a statement.
On June 9, Zhang went to sign a lease for an apartment in Urbana, but missed a connecting mass transit bus. As she waited for the next bus, a motorist in a black Saturn Astra pulled up and she got into the vehicle, according to an affidavit.
Authorities matched the vehicle with Christensen's car, the document showed.
Christensen on June 15 told investigators that he picked up an "Asian" woman who appeared to be in distress.
He also said he let her out of his vehicle a few blocks later after she panicked when he made a wrong turn, the affidavit said.
Investigators found Christensen visited a forum on a fetish Web site entitled "Abduction 101" with sub-threads "Perfect adbuction fantasy" and "planning a kidnapping."
Investigators also found the passenger's door of Christensen's car had been recently cleaned and that Christensen had been heard on an audio recording explaining he had kidnapped Zhang and had held her in his apartment.
"Based on this, and other facts uncovered during the investigation of this matter, law enforcement does not believe [Zhang] is still alive," the document said.
Comments will be moderated. Keep comments relevant to the article. Remarks containing abusive and obscene language, personal attacks of any kind or promotion will be removed and the user banned. Final decision will be at the discretion of the Taipei Times.