NY chaos as driver kills one, injures 22
'RAMBLING': The suspect, a US Navy veteran with a history of drunk driving, was under the influence of a drug at the time of his apprehension, police said
Suddenly, there was a car where no car should be: plowing through the sidewalk crowds that had swelled in Times Square on a spectacular sun-filled day; and it was moving fast.
By the time it rammed into a bollard, an 18-year-old woman was dead, 22 other people were injured, and the heart of Manhattan had been turned into a scene of panic and carnage.
The car, a maroon Honda Accord, had traveled along the sidewalk for more than three blocks.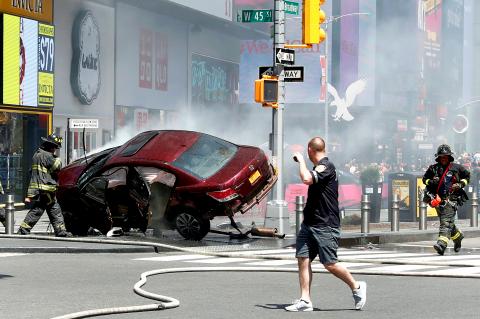 Firefighters inspect a car that had crashed into the bollards in Times Square, New York, on Thursday. A US Navy veteran driving the car plowed into pedestrians on the sidewalk, killing a woman and injuring 22 people.
Photo: Reuters
"They were screaming, yelling, running," said Sharief White, a vendor who was selling T-shirts and hats at the corner of Seventh Avenue and 44th Street, and saw the Honda speed into the crowd. "It was running over everybody that was in front of the car."
Unfolding in one of New York's most crowded and high-profile areas, the episode instantly raised the specter of terrorism.
An attempted car-bomb attack in Times Square in 2010 remains a potent memory for many and recent terrorist attacks overseas have shown the damage that vehicles can do when used as weapons.
The driver of the Honda, Richard Rojas, 26, a US Navy veteran from the Bronx, New York, had a history of arrests for drunken driving, officials said, moving quickly to assuage fears of terrorism.
"Based on information we have at this moment, there is no indication that this was an act of terrorism," New York Mayor Bill de Blasio told reporters at a news conference near the scene of the rampage.
Rojas appeared to be under the influence of drugs when he mowed down the crowds, according to several law enforcement officials who spoke on the condition of anonymity to discuss a continuing investigation.
Under questioning by investigators, he rambled and talked about various things, making some statements suggesting that he might have wanted to provoke the police into killing him, the officials said.
It was about noon when Rojas swerved onto a curb near 42nd Street and then accelerated north along the sidewalk on Seventh Avenue, which runs one way, southbound — crashing into people for block after block.
Alyssa Elsman, 18, of Portage, Michigan, was killed in the havoc, officials said.
Her 13-year-old sister was injured.
A security guard at a building at 44th Street and Seventh Avenue said he had watched through the lobby windows as the Honda sped past and drove over a woman.
"She just hit the floor and he went over her," said the guard, who did not give his name.
Other witnesses described their horror at seeing terrified bystanders scramble for safety.
"It was going at a fast rate of speed and to me it looked like it was trying to hit as many people as possible," said Annie Donahey, 24, who had just left work. "People were trying to jump out of the way."
The car raced on, crossing 45th Street before smashing into barriers in front of the Marriott Marquis Hotel.
The driver tried to escape, but he was quickly surrounded.
"He started trying to run away," said Asa Lowe, 42, who had been walking on Seventh Avenue. "Traffic cops grabbed him. Regular citizens grabbed him. We became the city we need to be today."
Rojas offered alternate explanations for the episode to investigators, according to the law enforcement officials, who said that investigators had not come to any immediate conclusions.
"He's just rambling and saying crazy stuff," one of officials said, adding that Rojas had talked of hearing voices and having hallucinations. "He tried to fight the police."
Two officials said Rojas had tested negative for alcohol while one official said preliminary tests had indicated he was under the influence of PCP, a mood-altering drug.
Rojas eventually asked for a lawyer, ending the questioning, another official said.
Another witness, Magdy Tawfik, a hot-dog vendor who was working near the corner of 44th Street and Seventh Avenue, said he had seen the car hit three people around him.
"One of the girls who was hit must have been about 20," Tawfik said. "She looked like my daughter. I couldn't stop crying."
He recounted the episode about a half-hour after it ended, the corner still a frantic scene of emergency workers, police officers in tactical gear and caution tape.
Rojas was taken to Bellevue Hospital for an evaluation before being discharged into police custody.
He was late on Thursday charged with one count of murder, 20 counts of attempted murder and five counts of aggravated vehicular homicide.
Comments will be moderated. Keep comments relevant to the article. Remarks containing abusive and obscene language, personal attacks of any kind or promotion will be removed and the user banned. Final decision will be at the discretion of the Taipei Times.