Turkey back on watch list over human rights
OVERSIGHT: Ankara has reacted angrily to PACE's vote to restart monitoring Turkey, something that it stopped doing 13 years ago ahead of EU accession talks
One of Europe's leading human rights bodies has put Turkey back on a watch list over "serious concerns" about democracy and human rights, putting pressure on the EU to reassess relations with Ankara.
The Parliamentary Assembly of the Council of Europe (PACE) on Tuesday voted to restart monitoring Turkey, a process it had relaxed in 2004 when it intended to pave the way for it to begin accession talks with the EU.
The Council of Europe, cofounded by Winston Churchill in 1949, is a separate body from the EU, but its decisions are closely watched in Brussels.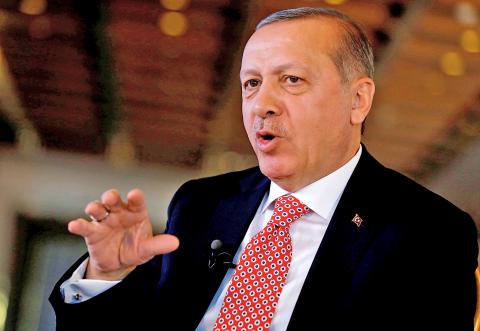 Turkish President Recep Tayyip Erdogan gestures during an interview at the Presidential Palace in Ankara on Tuesday.
Photo: Reuters
EU foreign affairs ministers are due to discuss EU-Turkey relations tomorrow for the first time since Turkish President Recep Tayyip Erdogan eked out a narrow victory in a referendum that granted him sweeping new powers.
The unprecedented decision to reinstate monitoring of a Council of Europe member triggered a furious reaction from the Turkish government, which said the "unjust" move was motivated by xenophobia and Islamophobia.
Ankara, one of the council's oldest members, said it was now reconsidering its relations with the body.
"Deciding to reopen the monitoring procedure on Turkey ... under the guidance of malicious circles at the PACE is a disgrace to this organ, which claims to be the cradle of democracy," a Turkish government statement said.
Lawmakers in the assembly concluded the contest took place on an "uneven playing field," endorsing the verdict of observers from the Organization for Co-operation and Security in Europe, who said the referendum had fallen short of democratic standards.
The resolution said the Turkish government had overstretched the state of emergency law introduced after the coup in July last year, with "ruling through decree laws going far beyond what emergency situations require and overstepping the parliament's legislative competence."
Lawmakers also raised concerns about Erdogan's promise to discuss reintroducing the death penalty, a move they said would be incompatible with Turkish membership of the Council of Europe.
Being monitored by the council means Turkey will be subject to frequent visits by human rights officials and debated more often in the Strasbourg chamber.
The resolution was passed with 113 votes, with 45 against and 12 abstaining.
Nine other Council of Europe countries are subject to this kind of monitoring, including Albania, Azerbaijan, Georgia, Russia, Serbia and Ukraine.
Kati Piri, a Dutch Labor member of the European parliament who specializes in EU-Turkey relations, said the EU would have to reassess its position on Turkey if it adopts constitutional changes backed at a referendum last week.
"The time just to wait and hope things will get better that strategy has to be abandoned and a clear statement has to be made from EU leaders," she said on Tuesday.
She said she was pushing for the EU to freeze Turkey's EU accession talks, rather than abandon them altogether.
In an interview with Reuters on Tuesday, Erdogan that Turkey would not wait at Europe's door forever and could walk away from EU accession talks if rising Islamophobia and hostility from some member states persist.
In other developments, Turkish police yesterday launched simultaneous operations across the country, detaining hundreds of people with suspected links to US-based cleric Fethullah Gulen.
Turkish Minister of the Interior Suleyman Soylu said 1,009 people have been detained so far in the operation launched in all 81 provinces, describing it as an "important step" toward the government's aim of "bringing down" the Gulen movement.
About 8,500 police officers participated in the operation.
Additional reporting by Reuters and AP
Comments will be moderated. Keep comments relevant to the article. Remarks containing abusive and obscene language, personal attacks of any kind or promotion will be removed and the user banned. Final decision will be at the discretion of the Taipei Times.