US women urged to take the day off
'DAY WITHOUT WOMEN': Coinciding with International Women's Day, the event aims to show the impact of women's work, paid or unpaid, on the US economy
Organizers of January's Women's March called for women to take yesterday off and encouraged them not to spend money to show their economic strength and impact on US society.
"A Day Without a Woman" is the first major action by organizers since the nationwide marches held the day after US President Donald Trump's inauguration that drew millions of women onto the streets in protest against misogyny, inequality and oppression.
Though it is unclear how many women could participate, thousands across the US have signaled their support and interest online and to employers.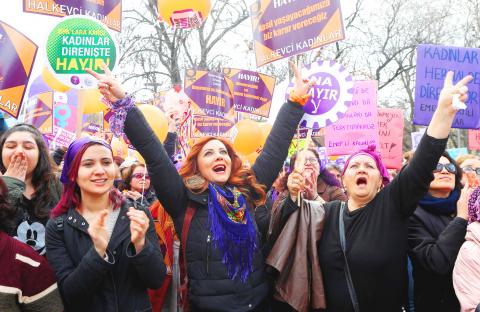 Women flash the V sign and shout slogans as they demonstrate in Ankara, Turkey, yesterday as part of events around the world to commemorate International Women's Day. In the US, "Day Without Women" organizers encouraged women not to go to work or shop yesterday.
Photo: AFP
The event coincides with the UN-designated International Women's Day, and organizers said they want to "stand with women around the globe" who supported their efforts on Jan. 21 with similar protests in cities around the world.
Spokeswoman Cassady Findlay said organizers were inspired by the recent "Day Without an Immigrant" protests held last month.
She said the action was aimed at highlighting the effect of women on the country's socio-economic system and would demonstrate how the paid and unpaid work of women keeps households, communities and economies running.
"We provide all this value and keep the system going, and receive unequal benefits from it," she said.
Findlay said it is important for white women to be in solidarity with minority women.
"Throughout history, the strikes that have the biggest impact are the ones when people who are already the target of oppression participate," she said. "It's when women of all backgrounds strike and stand together that we're really going to see the impact."
Unlike the Women's March, yesterday's protest was focused on the absence of women, who were being steered to local rallies and community groups and away from work or shopping in stores or online. Organizers also asked women to wear red to signify love and sacrifice.
More than a million people, mostly women, turned out nationwide for the Women's March.
In New York City, organizers planned a gathering in Central Park at noon.
International Women's Day rallies were also planned in Philadelphia, Baltimore, Milwaukee, Washington and Berkeley, California.
School districts including Prince George's County in Maryland, the Alexandria City Public Schools in Virginia and Chapel Hill-Carrboro Schools in North Carolina, have canceled classes in anticipation of employee participation.
In Utah, as many as 1,000 women were expected to gather at the Capitol to remind lawmakers they are watching their actions on women's issues.
In Providence, Rhode Island, the municipal court planned to close because the demonstration in the city would leave the court without enough staff to open.
Some businesses said they would either close or give female employees the day off.
The event Web site provides templates for "out of office" e-mails, and an employer letter. The site has had more than a half-a-million visitors, and more than 60,000 had clicked on the letter template by Tuesday afternoon.
The role of women in US society is significant. According to the US Census, women make up more than 47 percent of the workforce and are dominant in such professions as registered nurses, dental assistants, cashiers, accountants and pharmacists. They make up at least a third of physicians and surgeons, as well as lawyers and judges. Women also represent 55 percent of all college students.
US women continue to be paid less than men, earning US$0.80 for every US$1 a man makes. The median income for women was US$40,742 in 2015, compared with US$51,212 for men, according to census data.
Comments will be moderated. Keep comments relevant to the article. Remarks containing abusive and obscene language, personal attacks of any kind or promotion will be removed and the user banned. Final decision will be at the discretion of the Taipei Times.