Cambodian PM threatens to seize opposition property
Cambodian Prime Minister Hun Sen yesterday threatened to seize the property of opposition leader Sam Rainsy and sell the party's headquarters if he wins a defamation case against the exiled politician.
The US1 million lawsuit is the latest in a string of legal cases targeting Cambodian opposition leaders trying to break Hun Sen's 32-year grip on power.
Rights groups say Hun Sen is trying to keep his opponents under pressure ahead of local elections this year and a general election next year.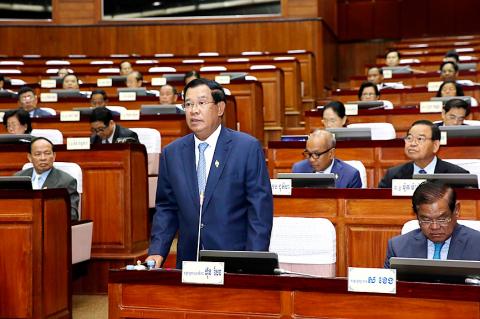 Cambodian Prime Minister Hun Sen speaks at the National Assembly building in Phnom Penh yesterday.
Photo: AFP / CAMBODIA NATIONAL ASSEMBLY
Hun Sen filed the latest defamation case against top foe Rainsy for accusing him of bribery in a speech several weeks ago.
"I am waiting for the verdict to be finalized. This time, I will take money... I am demanding [US]$1,000,000," the prime minister said during a parliamentary session.
"I heard the party's headquarters is registered under the name of Sam Rainsy, so the party's headquarters will be auctioned," he told the assembly, adding that the politician's personal property would also be "frozen ... and sold."
The money would be used to build houses for disabled people, he added.
Rainsy, who lives in France and faces several lawsuits, was sentenced to five years in prison in December last year over a post on Facebook, a conviction that makes his return from self-imposed exile unlikely.
Hun Sen also proposed amending a political party law to bar convicts from serving as party leaders — a clear dig at Rainsy and his Cambodia National Rescue Party (CNRP).
His ruling party also voted to strip Rainsy's No. 2, Kem Sokha, from having the title of minority leader.
The deputy leader of the party had held the minority leader status according to a 2014 agreement to end political deadlock and promote dialogue between Hun Sen and the opposition.
The ruling Cambodian People's Party has a slim majority in parliament and voted unanimously to remove Kem Sokha's minority leader status.
The role in theory gave him the same status as the prime minister in regular talks designed to preserve political stability.
The CNRP boycotted the vote.
Speaking to reporters, Son Chhay sought to brush off the latest moves against the CNRP.
"By doing such a thing he will make people unhappy and more and more people will support CNRP," Son Chhay said.
Hun Sen claims to have brought much needed peace and stability to a nation ravaged by civil war and the Khmer Rouge regime.
However, opposition groups have drawn growing support in recent years amid disillusionment with the endemic corruption and rights abuses that have flourished under his watch.
An investigation by Global Witness last year accused the prime minister and his relatives of carving a US$200 million business empire out of the impoverished country's economy to buttress their political power.
The government dismissed the report, but did not directly address the specific allegations detailed by researchers.
Additional reporting by Reuters
Comments will be moderated. Keep comments relevant to the article. Remarks containing abusive and obscene language, personal attacks of any kind or promotion will be removed and the user banned. Final decision will be at the discretion of the Taipei Times.