Man rams Seoul office 'to help Choi die'
SCANDAL: The attack on a government building is part of a frenzy in South Korea over a long-time friend accused of profiting from her relationship with the president
South Korean police detained a man who yesterday rammed a large excavator into a gate near the office where prosecutors were questioning a woman at the center of a scandal that threatens the country's president.
The attack with heavy construction equipment on the Supreme Prosecutors' Office building in Seoul is part of a frenzy of emotion in South Korea over the woman, Choi Soon-sil, whom prosecutors have detained as they examine whether she used her close ties to South Korean President Park Geun-hye to pull government strings from the shadows and amass an illicit fortune.
Choi, 60, yesterday was held for a second day after being detained late on Monday to answer allegations of exerting inappropriate influence in state affairs.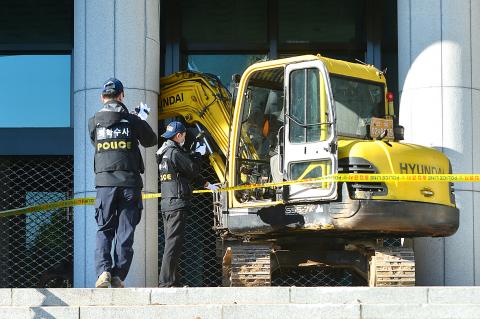 Police officers examine an excavator that a man surnamed Jeong yesterday used to smash the front entrance of the Supreme Prosecutors' Office building in Seoul, South Korea.
Photo: Reuters
Worried that she might be a flight risk and could destroy evidence, prosecutors placed her under emergency detention without a warrant on Monday, Yonhap News Agency reported. Under local law, a suspect can be held without a warrant for up to 48 hours.
Prosecutors planned to file a court request for an arrest warrant today, Yonhap and other media said, citing a prosecution official.
Prosecutors were not immediately available for comment.
Choi arrived at the prosecutor's office yesterday morning in handcuffs and a surgical mask and wearing a dark coat, escorted by correctional officers.
Although Choi was being questioned at another location, a man used an excavator to smash the front entrance of the Supreme Prosecutors' Office building, injuring a security guard, in an apparent act of protest against Choi. He was arrested by police.
According to Han Jeung-sub, a senior official at the Seocho Police Station, the 45-year-old man told police: "Choi Soon-sil said she had committed a crime she deserves to die for, so I came here to help her die."
The detained man was identified only by his surname, Jeong.
As she arrived for questioning on Monday, Choi, using a common expression of deep repentance in South Korea, said: "I committed a sin that deserves death."
Last week, amid intense speculation, Park acknowledged that Choi had edited some of her speeches and provided public-relations help.
Widespread reports have said Choi had a larger role in government affairs despite having no official ties to the administration.
Prosecutors are trying to determine the scope of access Choi had and whether she was given sensitive presidential documents.
Prosecutors have asked eight banks for documents related to Choi's financial transactions, Yonhap reported yesterday, citing unnamed financial industry officials.
The scandal has resonated with South Koreans in a way that past corruption allegations have not.
Some of this has to do with Park, who has long been criticized for an aloof manner and for relying on only a few longtime confidantes.
That she might have been outsourcing sensitive decisions to someone outside of government, and someone connected with a murky, lurid backstory, has incensed many.
Choi told the Segye Ilbo newspaper last week that she received drafts of Park's speeches after Park's election victory but denied she had access to other official material, or that she influenced state affairs or benefited financially.
The president last week said that she had given Choi access to speech drafts early in her term and apologized for causing concern among the public.
Park, 64, and Choi have known each other for decades, and the president said in a televised apology last week that her friend had helped her through difficult times.
Comments will be moderated. Keep comments relevant to the article. Remarks containing abusive and obscene language, personal attacks of any kind or promotion will be removed and the user banned. Final decision will be at the discretion of the Taipei Times.