Rosetta trek nears end in comet crash
After 12 years chasing a comet across more than 6 billion kilometers of space, European scientists will end the historic Rosetta mission by crashing the spacecraft on the surface of the dusty, icy body at the end of this month.
The spacecraft has managed several historic firsts, including the first time a spacecraft has orbited a comet rather than just whizzing past to snap some fly-by pictures and the first time a probe has landed on a comet's surface.
It was also the first mission to venture beyond the main asteroid belt relying solely on solar cells for power.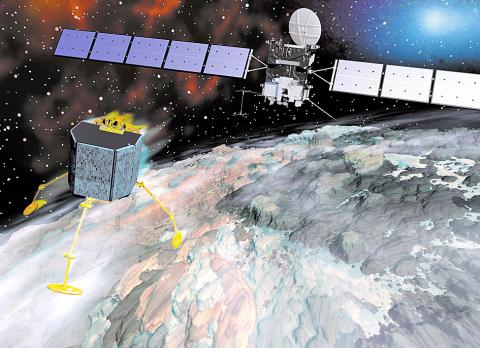 A computer-generated image released on March 2, 2004, shows space probe Rosetta, right, launching a lander over comet 67P/Churyumov-Gerasimenko.
Photo: EPA
After more than two years of circling comet 67P/Churyumov-Gerasimenko, collecting a treasure trove of data that will keep scientists busy for years to come, the comet's distance from the sun is nearing the point where solar power becomes too weak to operate the spacecraft and download data from its computers.
In the final hours of its controlled descent on Friday next week, Rosetta should be able to take close-up pictures of the comet and collect data on gases closer to the surface before joining Philae and shutting down forever.
"We haven't been in those last 2km [to the surface] with Rosetta and we believe it's fundamental in understanding how gases and dust get from the surface out to the outer atmosphere," Rosetta project scientist Matt Taylor told reporters ahead of Rosetta's end-of-mission event at the European Space Agency's (ESA) Space Operations Centre in Darmstadt, Germany.
Those who have worked on Rosetta say it by far exceeded their expectations by surviving the trip for as long as it did.
It sent its 100kg washing-machine-sized lander down to the surface in November 2014 in what was considered a remarkable feat of precision space travel, even if the lander ended up bouncing and coming to rest in the shade where it could not be recharged.
"We were going into the unknown," ESA head of mission operations Paolo Ferri told reporters. "The spacecraft really surprised us."
The Rosetta mission has inspired artists as well as scientists. Electronic music composer Vangelis has produced a new album called Rosetta, with the release timed for the end of the mission.
"We knew Rosetta was going to have a big impact, but didn't know it was going to be this big and that people would be that interested in it," Taylor said. "It had all the components — a long journey, adventure, technological challenges and danger and of course, the reason we are there for: cool science."
Comments will be moderated. Keep comments relevant to the article. Remarks containing abusive and obscene language, personal attacks of any kind or promotion will be removed and the user banned. Final decision will be at the discretion of the Taipei Times.