Japanese PM in Cuba to 'open new page'
DIPLOMATIC MEETINGS: Shinzo Abe called for open dialogue between the two sides to stimulate trade and tourism, while he discussed nuclear proliferation with Fidel Castro
Shinzo Abe arrived in Cuba on Thursday for the first visit to the nation by a Japanese prime minister, saying he wants to "open a new page" in relations.
Abe met with Cuban President Raul Castro during a visit that came after Tokyo's close ally Washington restored ties with the communist nation last year.
"I sincerely hope my stay here becomes an opportunity to open a new page in the relationship of friendship between both nations," Abe said in an interview published in the Cuban Communist Party's official newspaper, Granma.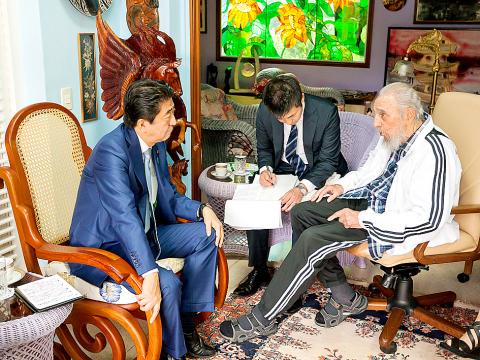 Japanese Prime Minister Shinzo Abe, left, and former Cuban president Fidel Castro, right, speak in Havana on Thursday.
Photo: Reuters
He also met Raul's brother and former Cuban president Fidel Castro to discuss nuclear proliferation.
Abe and Fidel Castro "discussed the complexities and hazards affecting the world and the need to strengthen efforts toward the elimination of nuclear weapons and preservation of peace," an official statement that was read on television said.
Cuba is one of the few countries that maintains relationships with North Korea, whose nuclear ambitions are considered one of Japan's biggest security threats.
Abe also called for "open dialogue" to stimulate trade and investment, development cooperation and tourism.
The head of the world's third-largest economy was received with military honors at the Palace of the Revolution in Havana, where he had a private meeting with Raul Castro.
Later, he placed a floral tribute at the monument to Cuban independence activist Jose Marti.
Japan was Cuba's second-largest trading partner between 1970 and 1985, but the relationship deteriorated drastically as the Cuban economy took a hit from the breakup of the Soviet Union, a key ally, in the early 1990s. Trade totaled about US$35 million in 2014.
On Monday, Cuba signed a debt restructuring deal with Japan, according to which Tokyo will forgive part of Cuba's debt, leaving it to pay US$606 million.
Of that, US$249 million is scheduled to be deposited in an investment fund for Japanese businesses in Cuba, the Japanese government said.
Comments will be moderated. Keep comments relevant to the article. Remarks containing abusive and obscene language, personal attacks of any kind or promotion will be removed and the user banned. Final decision will be at the discretion of the Taipei Times.