Thousands join Catalan independence rally
SECESSION: With a political deadlock gripping Spain since inconclusive elections last year, the Catalonian government pushed its call for an independence vote
Hundreds of thousands of Catalans on Sunday took over downtown Barcelona and four other cities to urge their politicians to push ahead with plans to break away from the rest of Spain.
For a fifth consecutive year, demonstrators used Catalonia's national day to raise the secessionist pressure on politicians in Madrid. However, unlike protests in previous years, the demonstration took place amid a serious political deadlock in Spain, which has been without an elected government since inconclusive elections last year. Another general election, the third in a year, is likely to be held in December.
Sunday's protest in Barcelona was smaller than ones in the past, with a turnout of 540,000 people, according to the local police.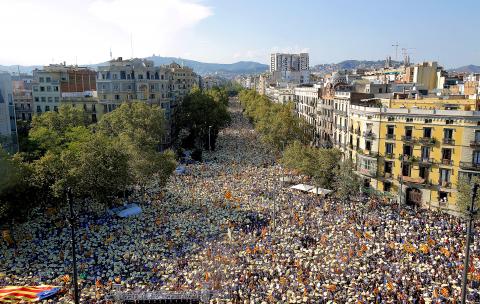 People wave estelada flags that symbolize Catalonia's independence during a demonstration in Barcelona, Spain, on Sundayc alling for the independence of Catalonia.
Photo: AP
In 2012, when the first such giant demonstration was held, 1.5 million people took part, according to police estimates.
However, comparisons were difficult to draw, because the organizers this year added demonstrations in four other cities across Catalonia, which is home to 7.5 million people, rather than have all the protesters converge on Barcelona.
For the first time, Catalan regional government president Carles Puigdemont joined the national day demonstrations.
Earlier in the day, Puigdemont told foreign journalists at a briefing that Catalonia would already be "in transition" toward independence, with the legal structures in place to create a new Catalan state, by its national day next September.
He also said he would use a parliamentary vote of confidence this month to make a new proposal to the caretaker government in Madrid to hold a Catalan referendum on independence.
Despite his own fragile position at the helm of a contested coalition government, Puigdemont said that "the Catalan train hasn't stopped," even as Spanish politics have become bogged down.
"Our train is under way, and the other train has been blocked, for several months," he said.
Puigdemont then traveled in the afternoon to Salt to join the demonstration there.
Barcelona Mayor Ada Colau joined demonstrators for the first time. She has taken a guarded stance on independence, in favor of allowing citizens to have a say, but without publicly supporting secession herself.
Some demonstrators in Barcelona said the deadlock in Spanish politics was further reason to want to secede.
"Catalonia has at least been able to form a government, while Spain is heading for third elections," said Francesc Mumbardo, an engineer. "We're talking about a Spanish political system that is so broken that its politicians can't even talk among themselves, let alone try to listen to us."
However, some participants acknowledged some weariness after five years of fruitless mass demonstrations to get the Madrid government to allow Catalonia to vote on independence.
The government, with the backing of Spanish courts, has repeatedly blocked any secessionist move, and has sued senior Catalan politicians on allegations that they have violated Spanish law.
Comments will be moderated. Keep comments relevant to the article. Remarks containing abusive and obscene language, personal attacks of any kind or promotion will be removed and the user banned. Final decision will be at the discretion of the Taipei Times.